Fresh from the garden Zucchini Blueberry Muffins with Streusel Topping, made extra moist with olive oil and sour cream, are so incredibly delicious. They taste even better the next day!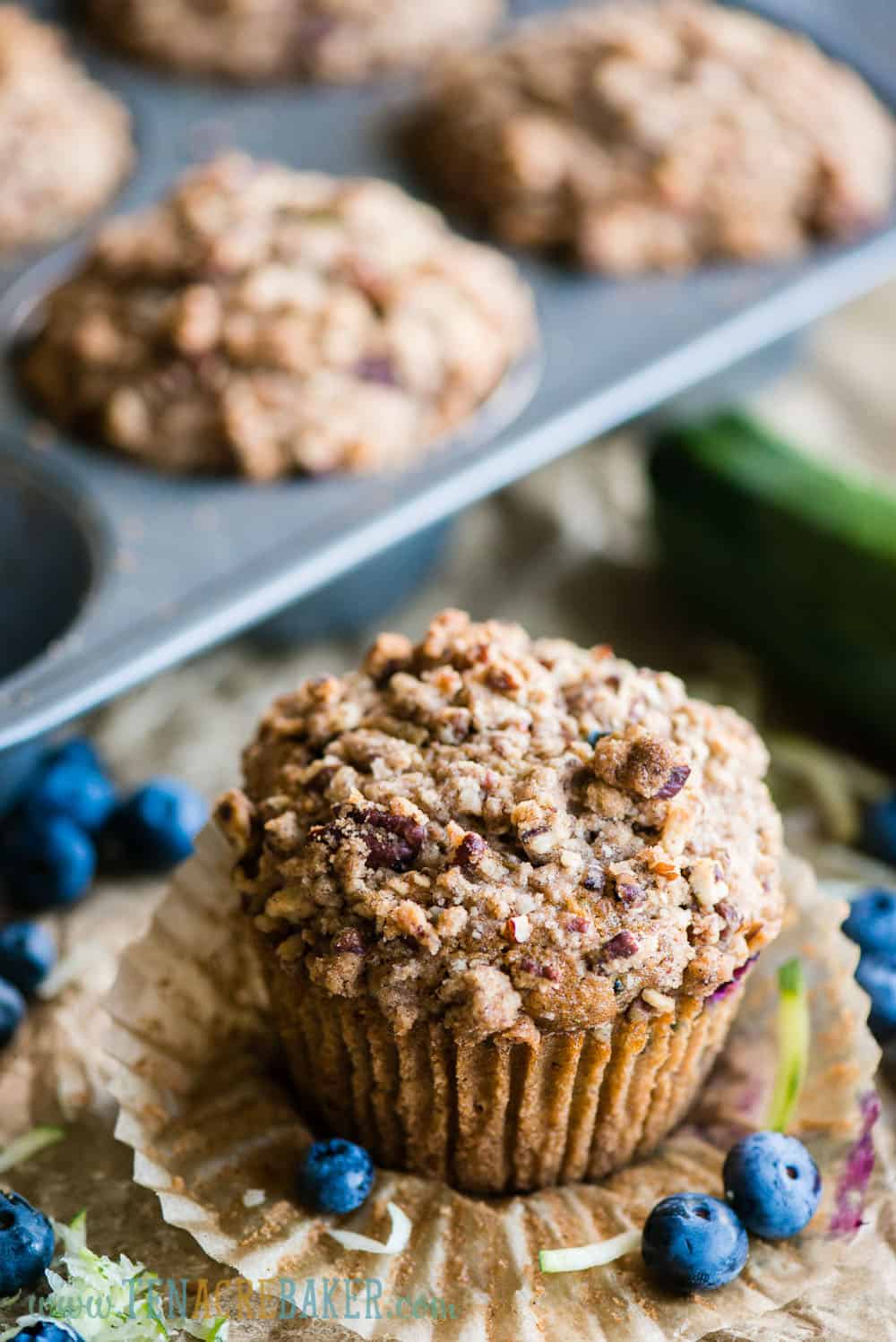 Why this recipe works:
To say I was pleased with how these Zucchini Blueberry Muffins turned out would be a severe understatement. Whenever I develop a new baking recipe, I never know if it will work until I bite into the final baked good. I don't even want to admit how many muffins and quick breads didn't make the cut.
I'm happy to say that this recipe was downright outstanding and will be one of my summer go-to muffin recipes.
I *may* have planted way too many zucchini plants this year, so don't be surprised if every recipe I post has zucchini in it.
As far as blueberries are concerned, I'm a firm believer that one can never have enough blueberries. When we moved in a year ago, I was pleased to see that there were about 18 well established blueberry bushes! This time of year, it's a daily race against the birds to see who can pick more.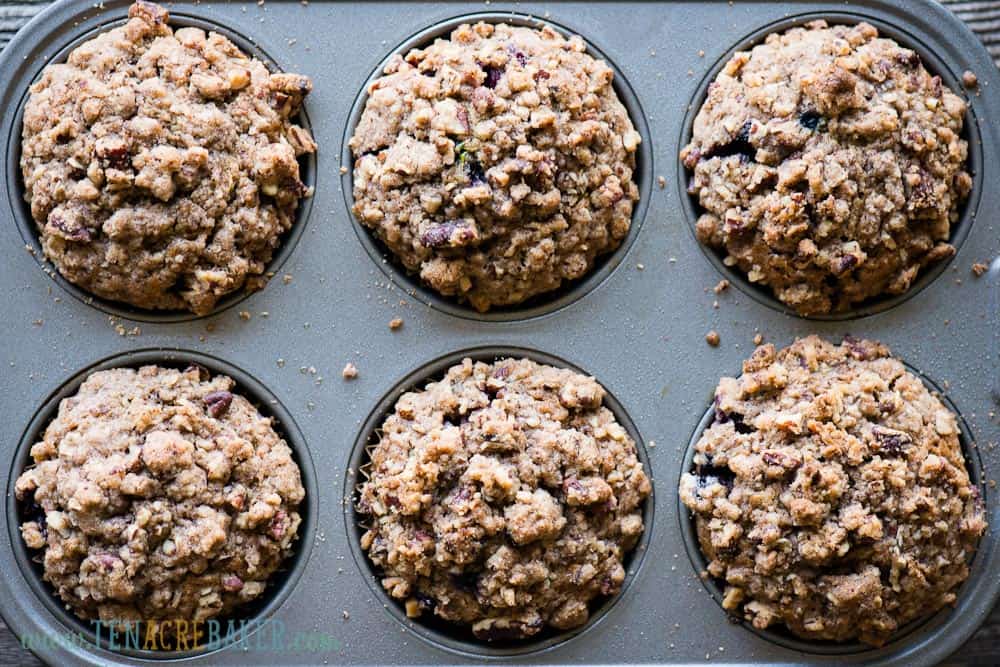 Are zucchini blueberry muffins good for you?
Well, these muffins have a ton of fresh zucchini, blueberries, and eggs from the farm in them. I also use olive oil as a healthy fat. If that is all you're willing to see, then yes - they are healthy.
But they also have their fair share of flour and sugar. So, overall, I would say that these muffins don't exactly qualify as healthy.
But will that stop me from eating them? No way. They're way too good.
Can you use frozen blueberries for muffins?
You sure can, but I think fresh are 1000 times better. Here's why:
Frozen blueberries mixed into batter will make the surrounding batter very cold, thus it will take longer for the inside of the muffin to cook. This will possibly cause the outside of the muffin to be overcooked and dry.
If you allow frozen berries to thaw before you mix them into the batter, their gorgeous dark purple color will bleed into the batter. If this doesn't bother you, then using frozen berries is fine.
When you use fresh berries to make these blueberry muffins, they almost dissolve into the muffin. My daughter split hers open and asked where all the blueberries went. She could see where they were, but expected to see whole berries. This effect adds to not only the flavor, but to the moistness.
Can you taste the zucchini in these blueberry muffins?
Not at all. Zucchini has a very mild taste and usually picks up the flavor of whatever it's cooked with. When you mix in the shredded zucchini, you might begin to worry that the recipe calls for too much.
Not so.
The zucchini simply adds moisture and texture to the blueberry muffins. It's a great way to add in a little extra fiber and vitamins too.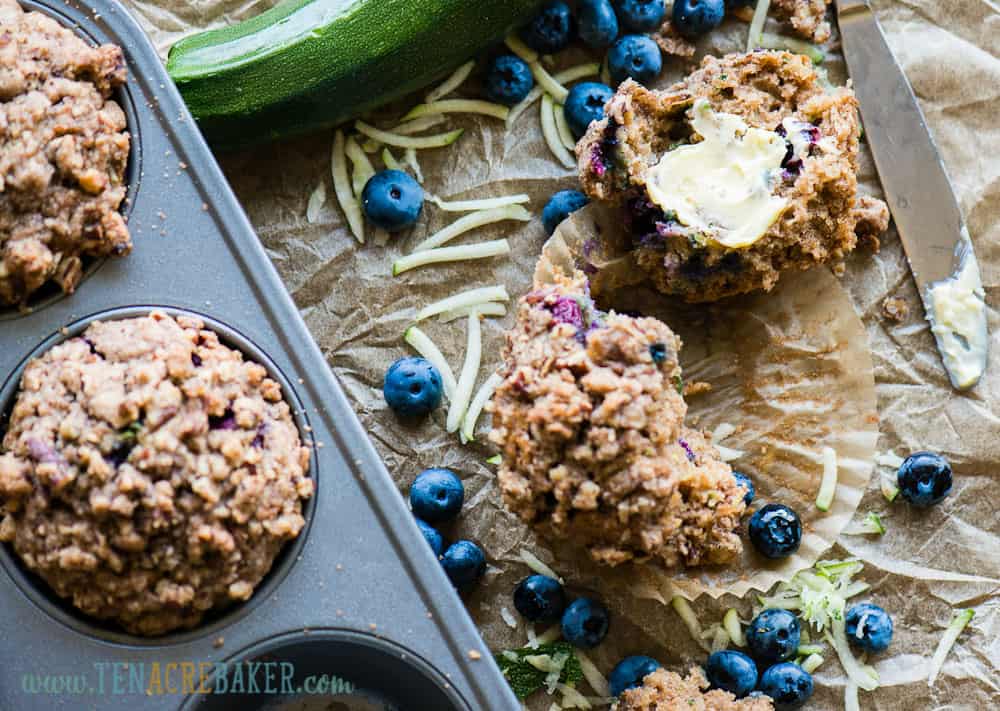 Can you freeze zucchini blueberry muffins?
Yep. You can pretty much freeze any kind of muffin, I've found. Simply store them in a resealable air tight bag, Squeeze as much air out as possible, and freeze. Just be sure the muffins are fully cool before you freeze them.
Then, to thaw, you can just leave them out at room temperature. Delicious!
What's the best way to shred zucchini?
If you only need a small amount of shredded zucchini, a standard box grater will do the trick. If you're grating up a boatload of zucchini because you planted too many zucchini plants, a food processor with the grater attachement is the way to go.
Before I use or freeze my shredded zucchini, I like to let it sit in a large collindar over the sink or a bowl to allow the excess fluid to drain out.
How many muffins does this recipe make?
This recipe makes either 12 regular sized muffins or 6 jumbo sized muffins.
I couldn't decide which I'd like more, so I doubled the recipe and made both. Both the regular and jumbo sized muffins turned out perfectly, but the jumbo did require a few extra minutes of cooking time.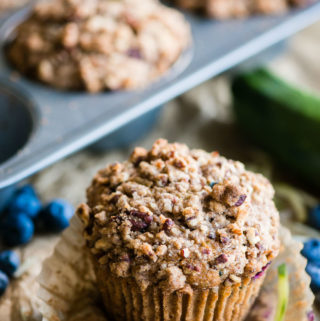 Zucchini Blueberry Muffins
Fresh from the garden Zucchini Blueberry Muffins with Stresel Topping, made extra moist with olive oil and sour cream, are so incredibly delicious!
Print
Pin
Rate
Ingredients
Muffins:
1

cup

all-purpose flour

½

cup

whole wheat flour

½

cup

brown sugar

¼

cup

white sugar

1

teaspoon

baking soda

1

teaspoon

cinnamon

½

tsp

kosher salt

½

cup

olive oil

¼

cup

sour cream

1

large

egg

slightly beaten

2

teaspoon

vanilla extract

1 ½

cups

zucchini

shredded with as much liquid squeezed out as possible, packed

1

cup

blueberries

fresh
Streusal Topping:
3

tablespoons

all-purpose flour

3

tablespoons

brown sugar

½

teaspoon

cinnamon

3

tablespoons

unsalted butter

cold, cut into small pieces

½

cup

pecans

crushed
Instructions
Preheat oven to 350 degrees F. Grease 12 muffin cups or line with paper liners.

Whisk together flours, sugars, baking soda, cinnamon, and salt together in a bowl.


Whisk olive oil, sour cream, egg, and vanilla extract in a separate bowl until smooth.

Stir wet ingredients into flour mixture until batter is just moistened. Batter will be very thick. Stir in shredded zucchini and mix well. Gently fold in blueberries.


To make the streusel, combine flour, sugar, butter, cinnamon, and pecan pieces. Use a fork or a pastry blender to evenly distribute butter chunks.

Fill prepared muffin cups ⅔ full with batter. A cookie scoop works great for this task. Top with equal amounts of streusel.

Bake in preheated oven until a toothpick inserted into the center of a muffin comes out clean, 20 to 25 minutes for regular sized muffins or 25-30 minutes for jumbo ovens (cooking times will vary).
Notes
Recipe makes 12 regular sized muffins or 6 jumbo muffins. 
Nutrition info is based on one regular sized muffin.
Nutrition
Calories:
284
kcal
|
Carbohydrates:
32
g
|
Protein:
3
g
|
Fat:
16
g
|
Saturated Fat:
4
g
|
Cholesterol:
25
mg
|
Sodium:
217
mg
|
Potassium:
124
mg
|
Fiber:
1
g
|
Sugar:
18
g
|
Vitamin A:
175
IU
|
Vitamin C:
4
mg
|
Calcium:
30
mg
|
Iron:
1.2
mg