Orchid plants are one of the most beautiful houseplants you can enjoy. Once you know how to care for orchids, you can enjoy endless orchid flowers.
This beginner's guide to caring for orchids teaches you how to water, prune, and care for your orchid plants with the proper lighting to ensure that they continue to produce gorgeous orchid flowers year after year.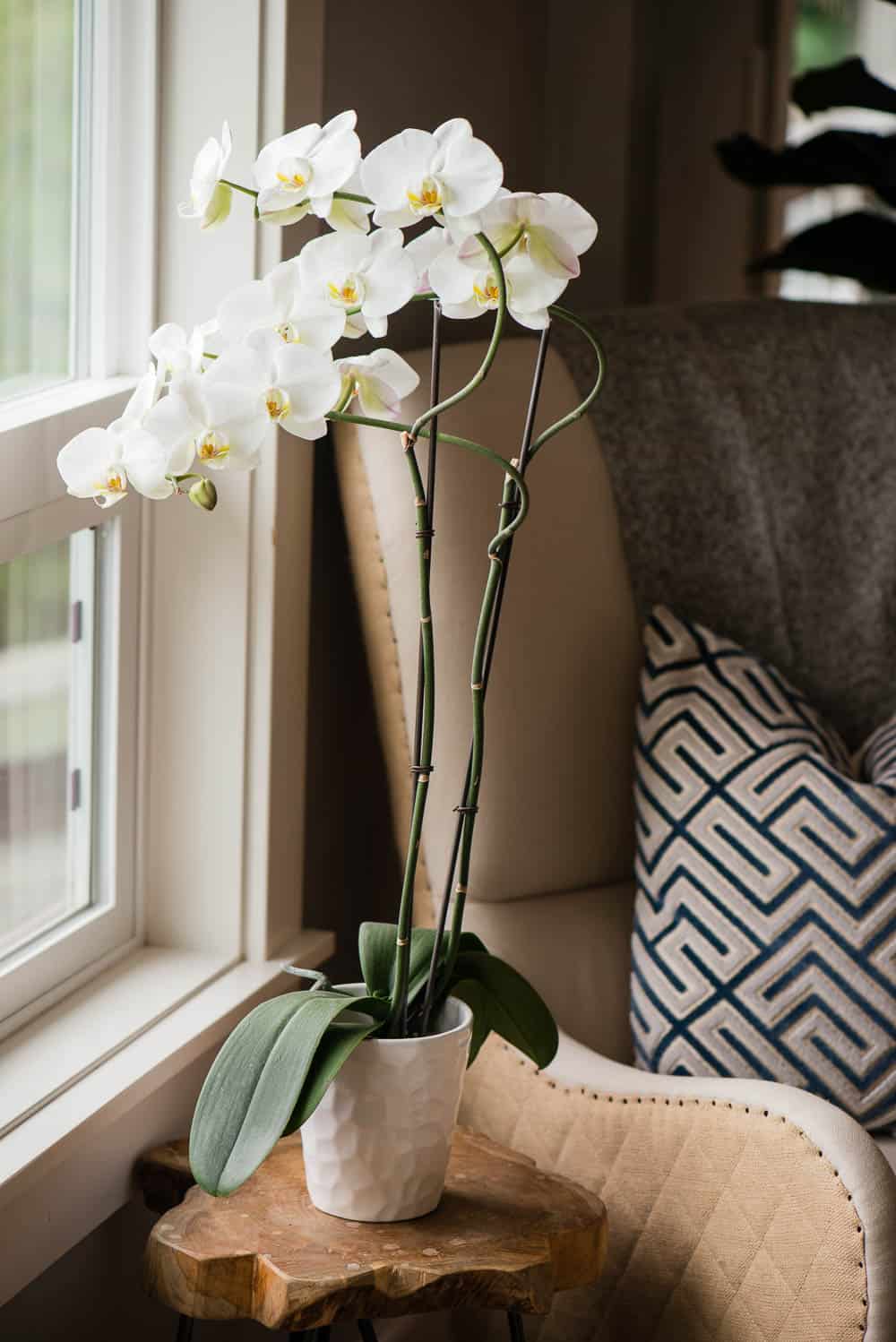 PHALAENOPSIS ORCHID CARE
People walk into my home and always comment on how I have such a green thumb.
Allow me to let you in on a little secret... I have never been able to keep a plant alive up until a couple years ago. Now that I've figured out what works and what doesn't through countless trials and errors, I actually feel like I'm good enough at this house plant thing to actually share a few pointers with you.
You see, I have always loved orchids, but after they stopped blooming, I would just toss it in the garbage. I actually thought they only bloomed once. I mean, they are spectacular when they are in bloom, but are quite the eye sore when they're not. I guess I didn't have the patience to wait around to find out if they would ever bloom again.
Well, guess what. They do! And with a little practice and the right methods, you can make their subsequent blooms even more spectacular than the first! Read on...
How much do orchids cost?
The cost of an orchid can range anywhere from $6 for a small mini orchid to hundreds of dollars if you buy something exotic or multiple plants grouped together in one arrangement.
I have about ten orchid plants in my home right now and I bought all of them from Trader Joe's. Their plants range from $6-$13. That's about what I'm willing to pay for a flower arrangement that needs to be tossed after a week, so why wouldn't you always choose an orchid plant instead?
Fresh cut flowers look great at first, but then they start to wilt and fall apart and the water gets slimey. Honestly, they're a huge waste of money, in my opinion. Next time you want to buy a bouquet of flowers at the store, I strongly urge you to buy an orchid plant instead and follow these tips to see how many times you can bring it back to life!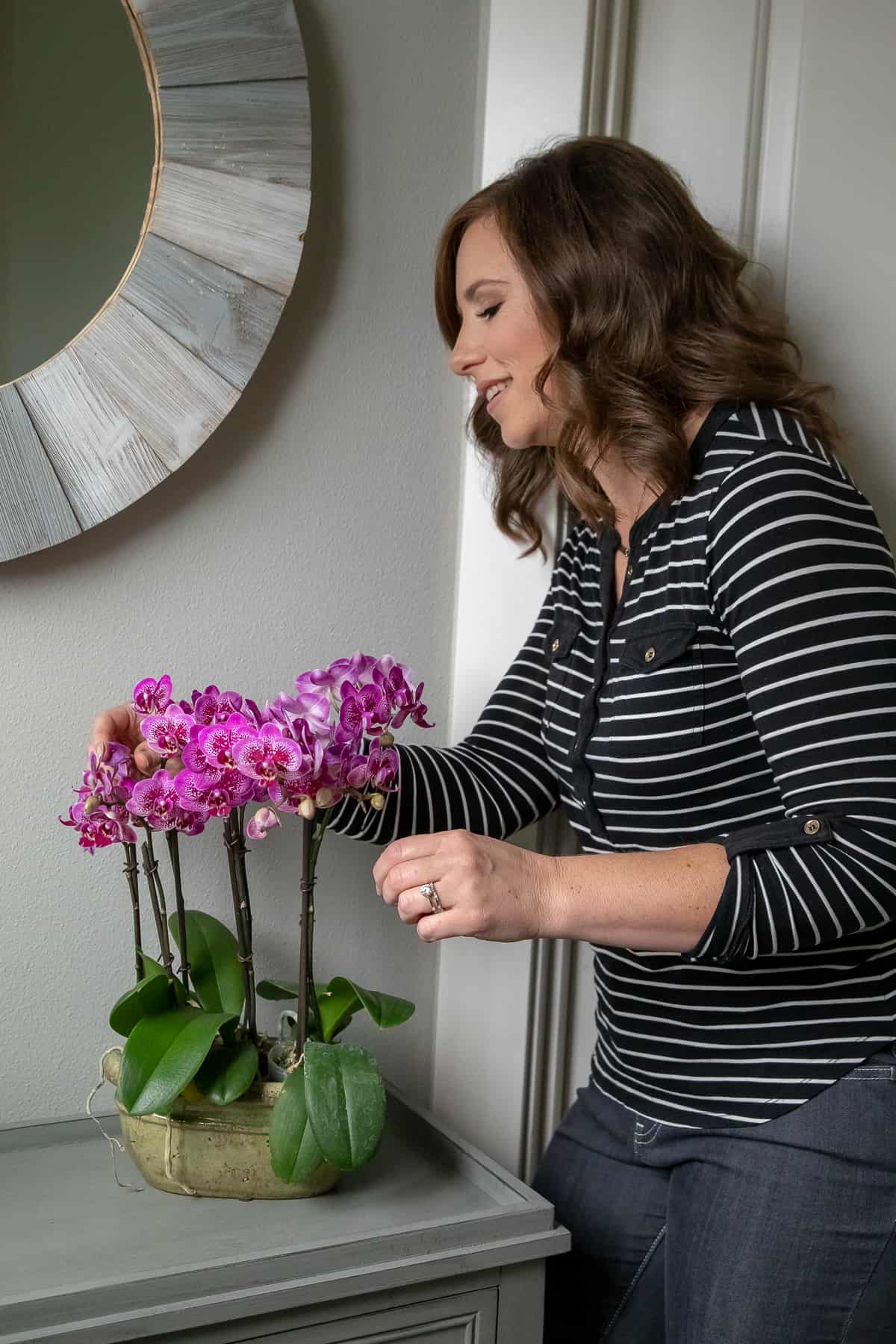 How long do orchids live for?
If you toss your plant after it blooms, it doesn't live very long, now does it?
If you know how to care for orchids, your orchid plant can actually live for years. Maybe even decades!
If you're wondering how long orchid flowers bloom, you can expect to see flowers for two to three months, depending on your light, temperature, and humidity.
How do you keep an orchid alive?
Orchids aren't needy plants. They don't require that much water. They do have a specific preference for light, temperature, and humidity, but once you find that special spot in your home, they're set. They're easy to feed and fertilize. And you only need to prune them after they're done blooming.
At the very bottom of this post I'll explain exactly what I do to care for my orchids that keeps them happy, healthy, and full of gorgeous blooms year after year.
What do you do with an orchid after the blooms fall off?
Aside from enjoying the gorgeous flowers, pruning orchids is actually one of my favorite activities. There's something so satisfying about getting rid of the old and seeing what your plant will do next.
I wait for all of my flowers to fall off. They will typically fall off starting at the base of the stem and working their way to the end, since that is the order in which they will bloom.
Once all of the flowers have fallen off, the plant will enter a resting phase. During this time, the stems might remain healthy or they might start dying. You will know if the stems are dying because they start to turn brown and dry up. This will start at the tip and work it's way down to the base.
Keep an eye on your orchid plants during this rest period and use a sharp pair of clean scissors to cut off any dead material. I like to make my cuts right above a node on the stem. New growth will often shoot off from that node.
Take a look at the photo below. If you look at the main stems, you can see the blunt edges where I cut the original stem off right above the node. When it started to grow new spikes, I got not two, but three! That means that my original plant only had two flowering spikes and round two gave me three flowering spikes! I bet you're wishing you didn't throw your last orchid plant away after it bloomed!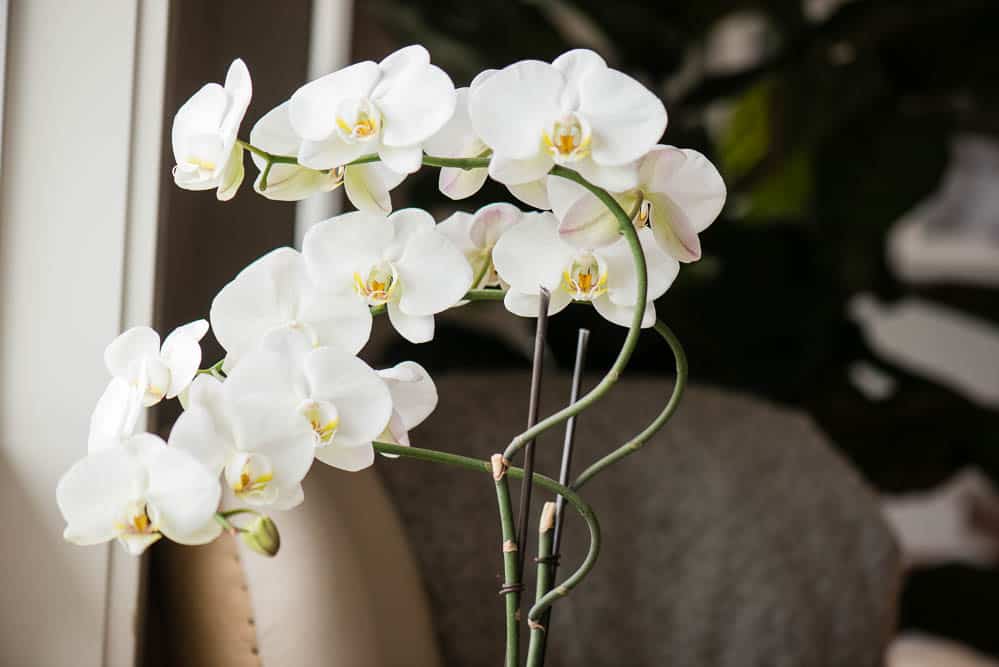 What is the best light for an orchid?
Like many houseplants, orchids really do love a lot of light, but not direct light. Orchids tend to do well in my home because we have a ton of windows and no blinds or curtains (thank you 10-acre privacy). I can set a plant in the middle of my house and it still gets a lot of indirect light.
I know most people don't have that luxury, but don't fret! You can still keep your orchid plant alive.
If the only location you can keep your orchid is in a spot that gets direct sunlight, just keep in mind the following:
Is it morning or afternoon sun? Morning sun is much more gentle than harsh afternoon sun.
Watch your leaves. They are the best indicator of weather your orchid plant is getting too much sun. Are they turning reddish brown? Are sections of the leaves drying up and dying? Might be time to move your plant.
My "orchid rehab center" is actually the window sill in my office. They do get tons of bright light, but very little direct sun light beating down on them because of the orientation of the window. This is the place where I let them rest, recover, and rejuvenate. Once their blooms are about to open, I put them somewhere in the house where everyone can enjoy their beauty!
What's the best way to water an orchid?
So many people tell me to water with an ice cube. I've never done that though.
If you've never heard of the ice cube trick, it's basically a way to give your orchid plant a small amount of water over a period of time.
Here's my thinking though... orchids are tropical plants. I just don't feel like they would appreciate an ice cube on their roots. I know, I know. I'm a weird person.
Instead, I really just give my orchids an ice cube amount of water once a week when I make my houseplant rounds. I water the same amount every week regardless of whether they are in bloom, resting, or generating new growth.
Do you need to replant an orchid?
I haven't, but I plan to.
Orchids come in planters that allow a lot of air to touch their roots. They actually absorb a lot of moisture this way. If you pack an orchid plant into a normal pot with no air flow, you'll kill it.
I have recently purchased a few pots that are specifically made for orchids. They have quite a few holes on the sides. You can't plant them in standard soil. You must plant them in the proper orchid planting material. You can just buy a bag at a place like Home Depot. Remember, you don't water it much, so nothing should spill over if the pot has holes, right?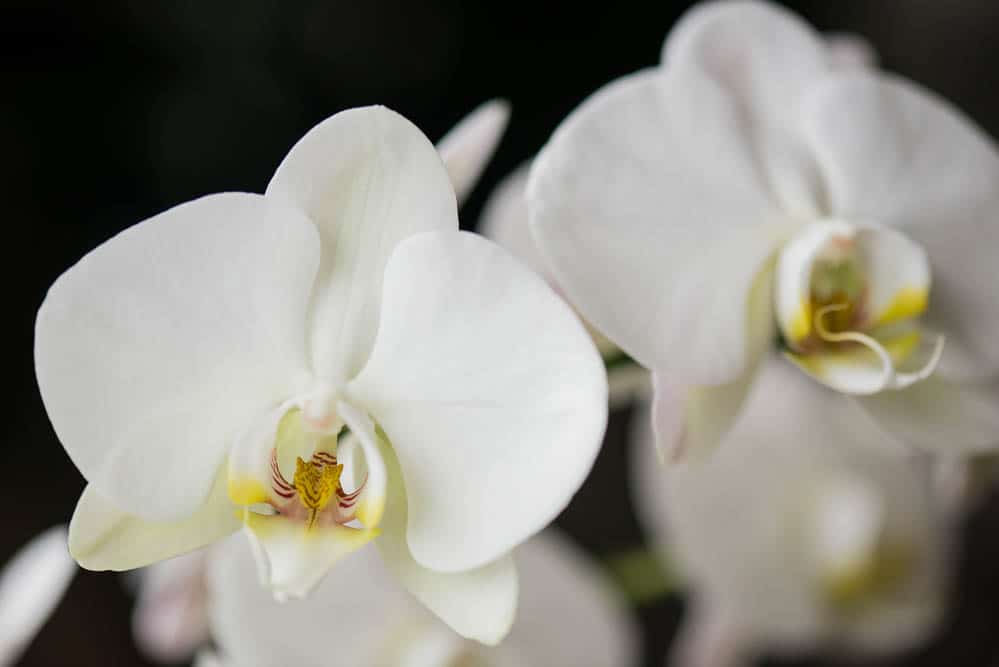 So let's get down to the one question that's been burning in your mind...
How do you care for an orchid?
There are many orchid types, but I am only going to talk about the Phalaenopsis Orchid. They are the only type of orchid that I own and probably the type you are most familiar with because of how common they are. I will summarize the basics of how I care for an orchid plant and keep it blooming every year.
Bring your orchid plant home from the store and find a nice home for it where it's on display with plenty of indirect light. If you notice the leaves dying or turning brownish red, find it a new home.
Feed your orchid plant. I used to use an orchid plant food mist (and still will on occasion), but I found that the Miracle-Gro Orchid Plant Food Spikes are a great option. I just jam one into the base near the roots and every time you water it will release a bit of food into the plant.
Water your orchid plant. Remember, they take a very small amount of water, so either use an ice cube or add an ice cube amount of water weekly. They like humidity, so feel free to give them a nice mist.
Allow the flowers to die and fall off. It will be sad to watch them go, but alas it is the cycle.
Relocate your plant to a rehab area if you don't want it on display while it regenerates. Prune off any dead sections. You may also prune off an entire spike if you want the plant to focus on the leaves and root system.
Here's my favorite part: Once new spikes start growing, you can manipulate their shape. If you put your plants in a window (with either morning or indirect light), your new spikes will always grow towards the light. Once they get to be a few inches long, turn the plant around and the spikes will change directions. Continue doing that and you will end up with the most gorgeous spiral flower spikes you've ever seen. You can see how I was able to manipulate them with my white orchid plant.
Once they start blooming, put them out on display again!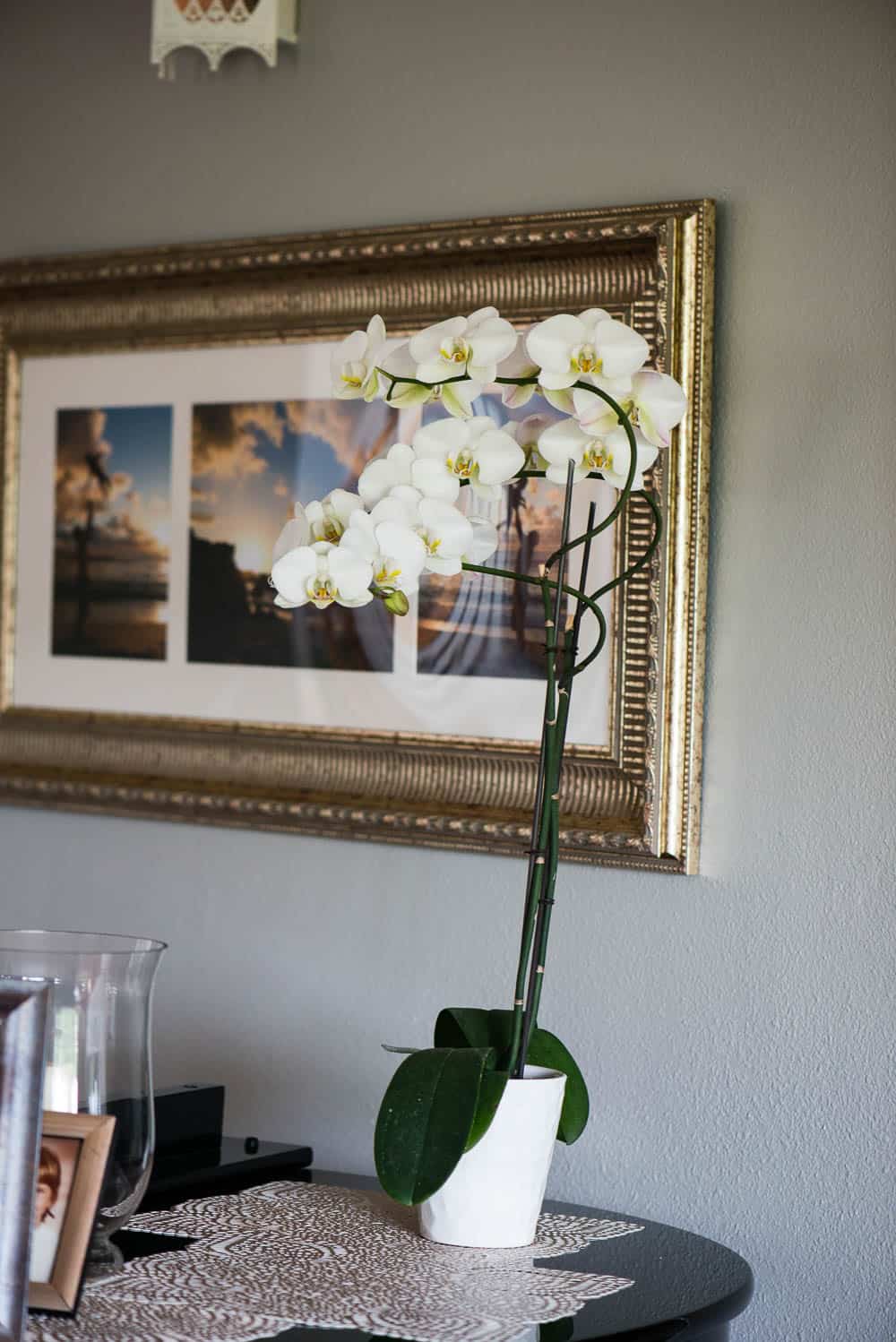 Let me know if you have any questions, advice, or suggestions in the comments below!