The best way to make steamed artichokes is in the Instant Pot. This is the easiest way to prepare them with perfect results every time. Scroll down to see all the information you will need to select the best artichoke, how to cook it, how to eat it, and a recipe for a delicious dipping sauce.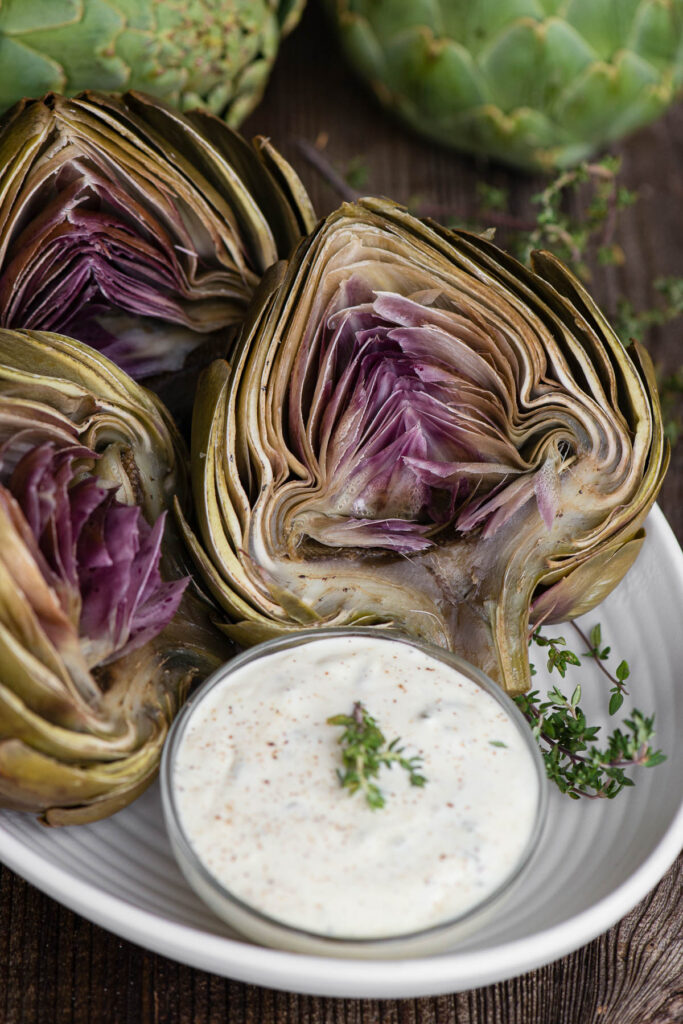 My love of artichokes, explained
I have been eating steamed artichokes my entire life. I am always shocked when I make them for company and they say they've never eaten one! Large fresh globe artichokes are easy to prepare, taste absolutely delicious, and they're very good for you.
I was fortunate enough to visit Ocean Mist Farms in Castroville (aka the artichoke capital). There, I learned all about the unique environment needed to grow an artichoke, how to select the best ones at the store, and various ways to prepare them.
Growing up, we would steam the whole artichoke in a pot. This not only took a long time, but the results were never consistent. Plus, you have the fuzzy choke to deal with at the end when you're trying to make your way to the heart. And trust me, you will want to eat the heart.
Instant pot artichokes are quick, easy, and you won't have to deal with a messy choke at the end. They turn out perfect every time.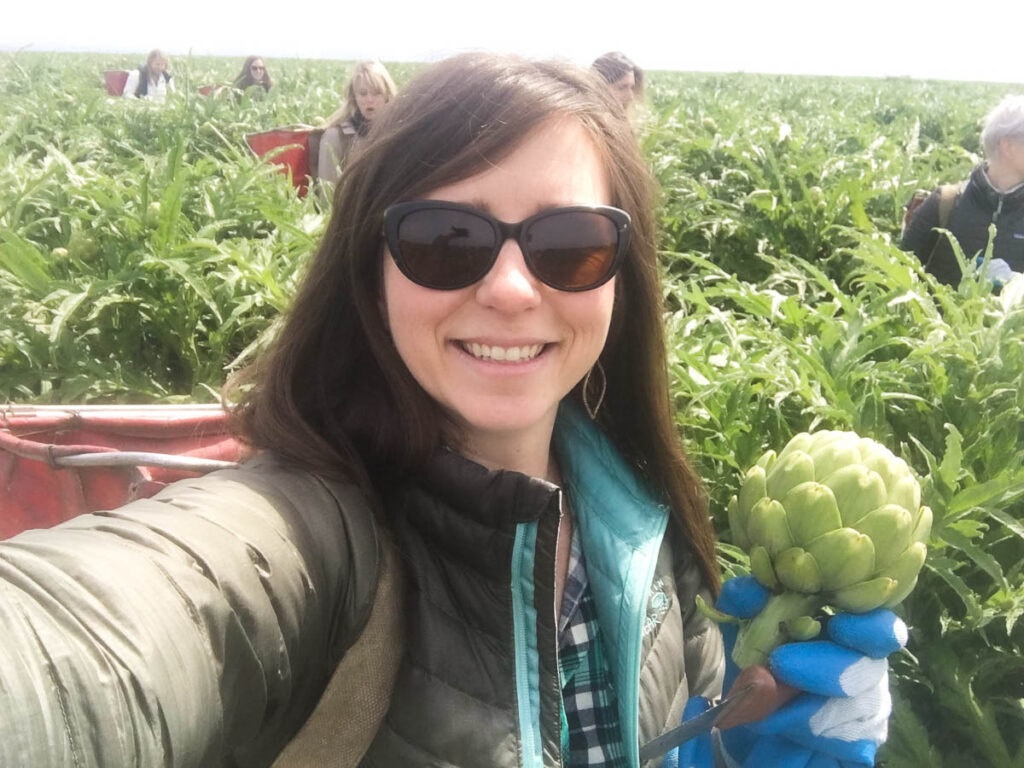 How to chose the best artichoke
There are a few things to look for when buying artichokes at the store:
Tight leaves: Artichokes are flowers, after all. If you were buying roses at the store, you would want some where the petals are tight, so that they have not yet passed their prime. Same goes for artichokes. If the petals are flayed out, it is an older artichoke and likely past it's prime.
Heavy: When comparing artichokes, choose ones that are the heaviest. This would indicate they haven't dried out and likely have more meat.
Buy them when they are in season: Peak season for California grown artichokes is March through May. Because of the unique growing environment required and short growing season, any artichokes outside of this period are likely imported from outside the US.
Artichokes are best if cooked as soon as possible, but you can prolong their shelf life by trimming the bottom off of the stem and placing in water. Artichoke flowers are still flowers!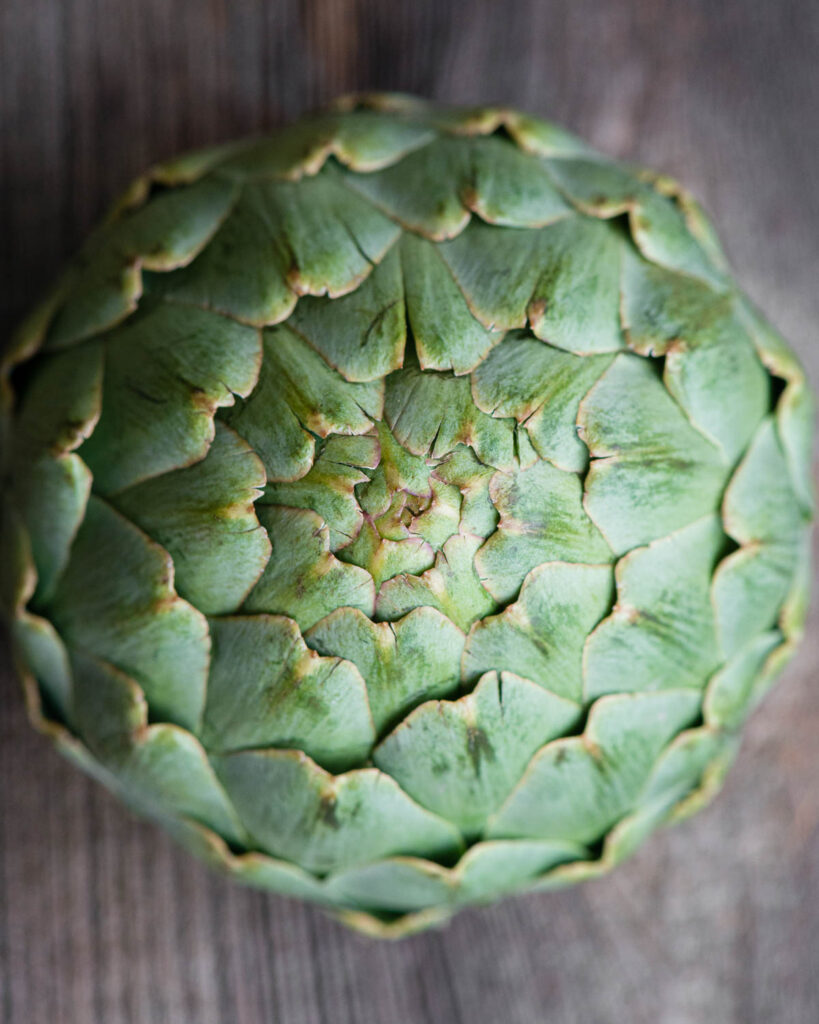 Ingredients needed
Exact quantities are listed in the recipe card below, but here is a summary.
Artichokes - two large globe artichokes will fit in a standard sized Instant Pot
Dipping sauce - I always make mine with a combination of mayonnaise, fresh thyme, lemon juice, and salt.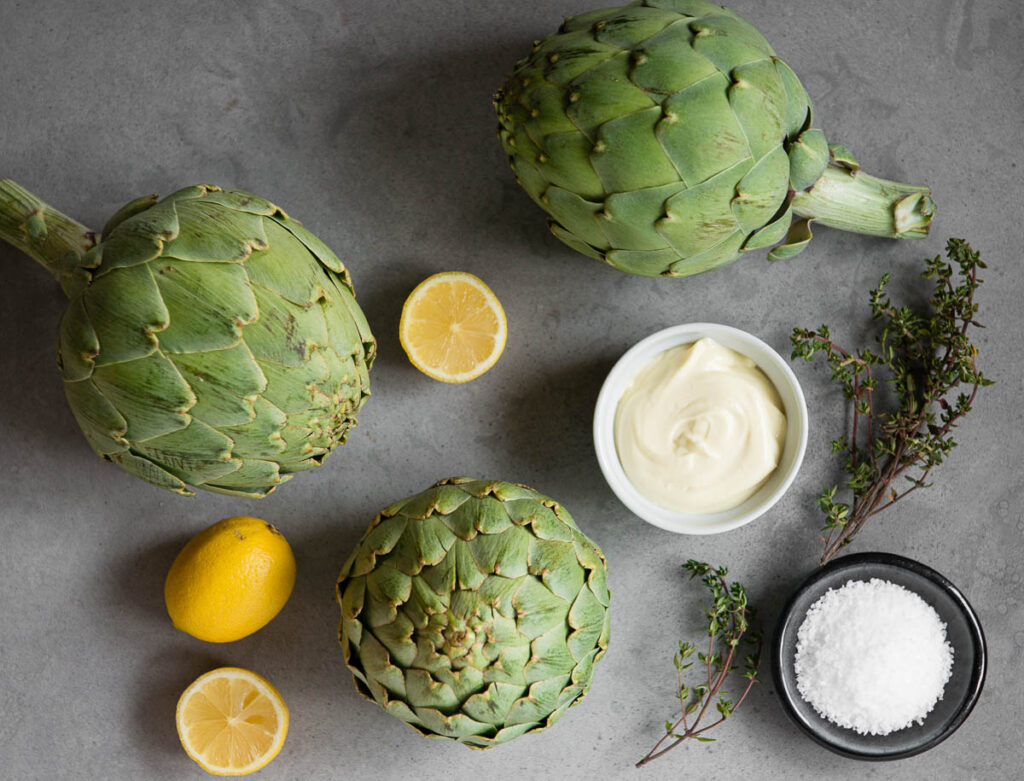 How to make Instant Pot artichokes
Detailed step by step instructions are listed in the recipe card below, but here is a summary.
Step 1: Prepare the artichokes
Cut stem: I usually leave about a half an inch
Slice in half: Use a large serrated edge knife to cut through the center of the stem all the way through the artichoke.
Remove choke: Using a sharp knife, cut underneath the fuzzy choke. Use the knife or a spoon to scoop it out.
Optional: Each leaf has a tiny thorn on top that can be removed with kitchen shears. I don't bother with this step.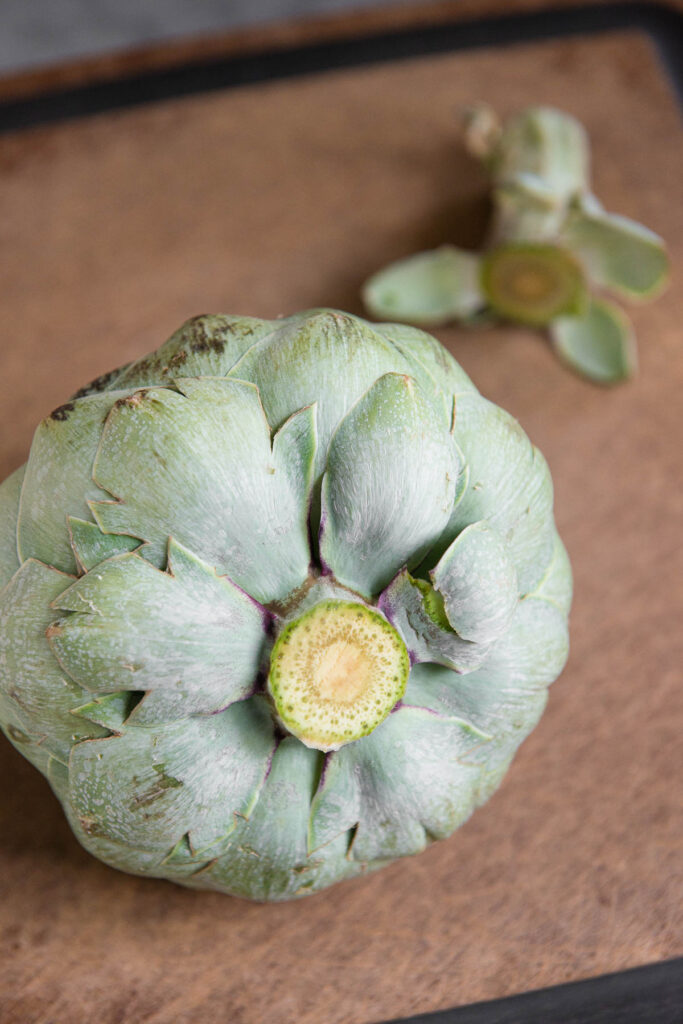 Step 2: Steam the artichokes
Add water: Add cold water to the Instant Pot. Arrange artichoke halves so that the cut sides are face down.
Steam: Close and secure lid and cook on high pressure for 6 minutes. When done, allow them to sit for about a minute, then quick release the pressure and open the lid.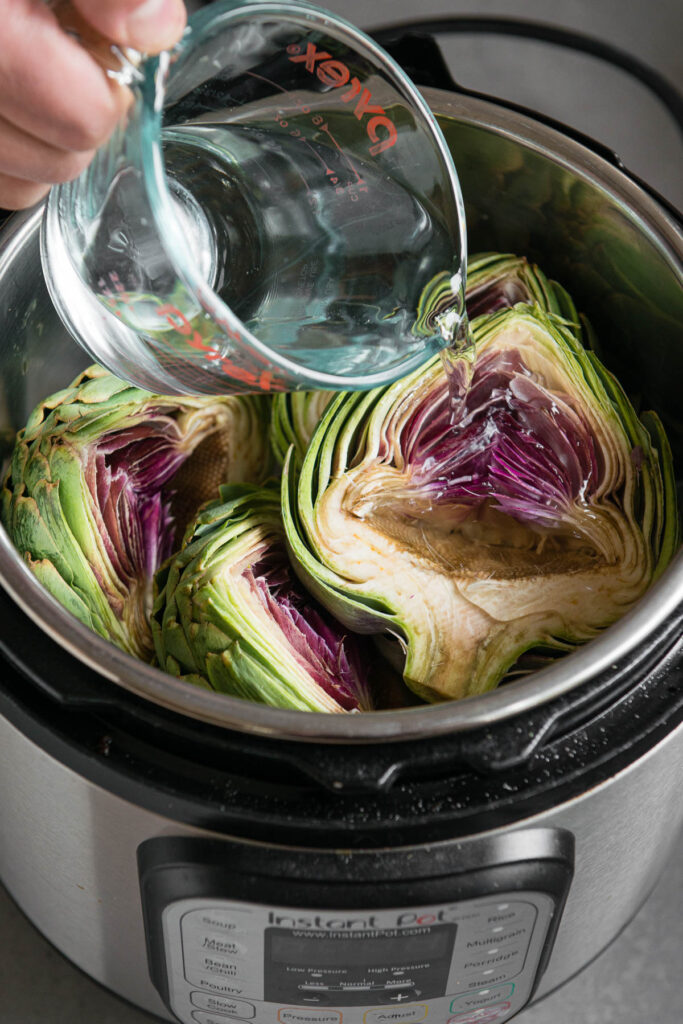 Step 3: Make artichoke dipping sauce
Growing up, we always at steamed artichokes with melted butter. Now, I always make a mayonnaise based sauce. There's something about this combination of ingredients that is amazing with fresh artichokes.
While they're cooking simply mix the sauce ingredients together, taste, and adjust to your liking.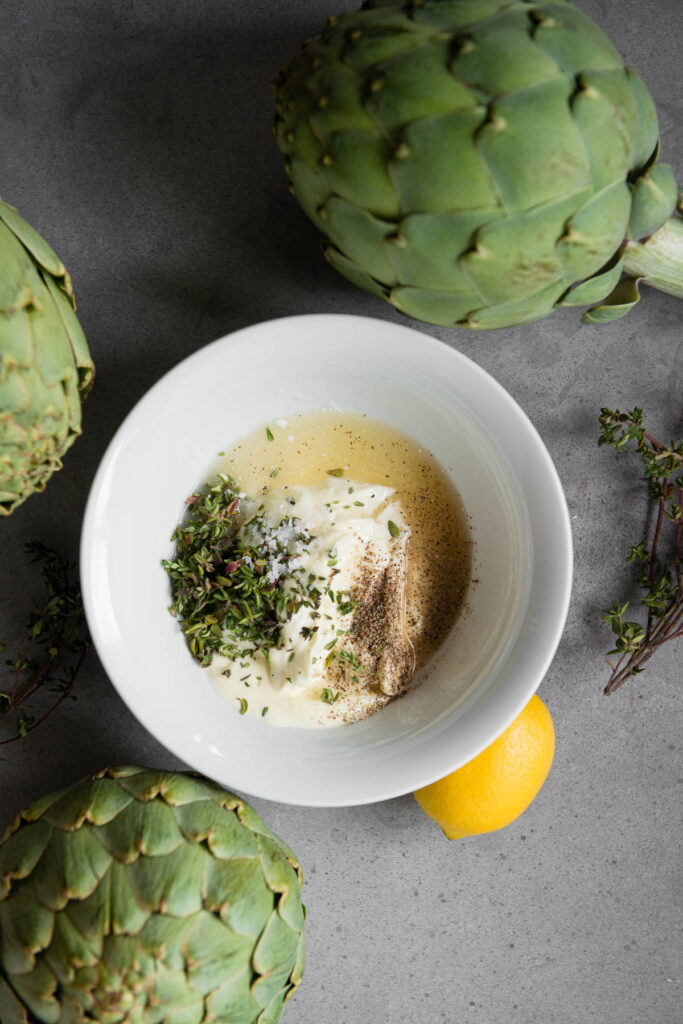 How to eat an artichoke
If you've never eaten an artichoke, you might need to be told how to eat it. After steaming the halves in the Instant Pot, transfer them to a plate.
Pick a leaf: Remove the leaves at the base of the artichoke. As you pull them away from the stem, the ones at the bottom will be stringy. You won't want to eat those. As you work your way up from the stem, however, the leaves will have a creamy white base.
Dip: Dunk the end of the leaf into the dipping sauce.
Scrape: Turn the leaf upside down, put it into your mouth, and use your bottom teeth to scrape off the soft white section with the dip.
Continue until all the leaves are gone... but you're not done! The heart is the best part.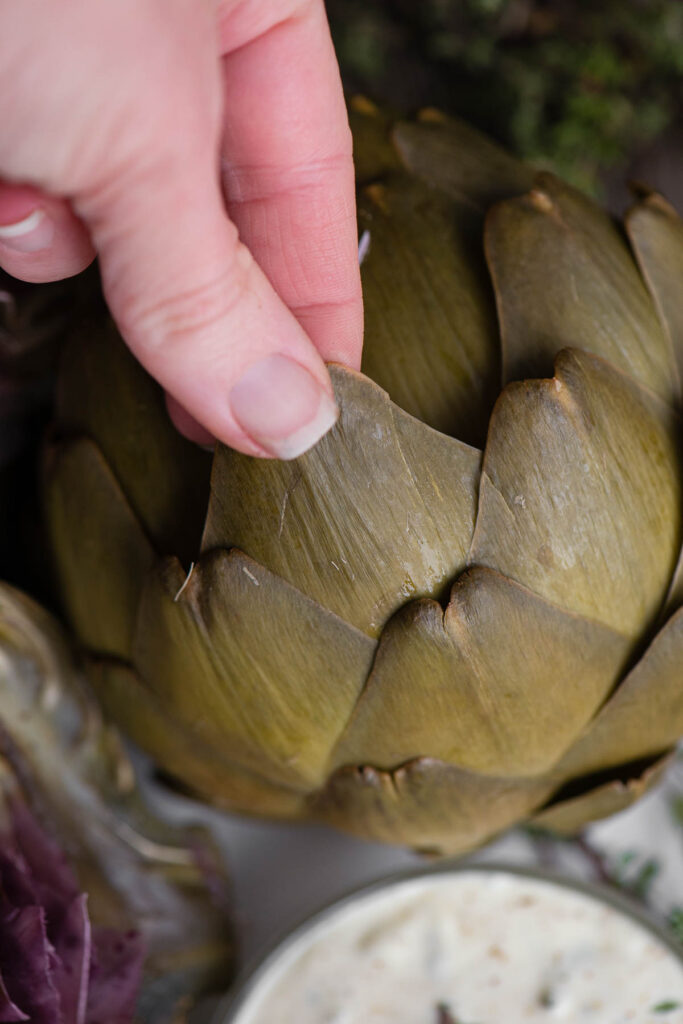 How to eat an artichoke heart
The artichoke heart is at the base of the artichoke, above the stem. Once all of the leaves have been removed, you will have a bit of cleaning and scraping to do in order to enjoy the heart.
Simply use a sharp knife to cut away any remaining parts of the stem and clean up any remaining parts of the fuzzy choke that are still there. Then, simply dunk what's left in the dipping sauce and enjoy the best part of the artichoke!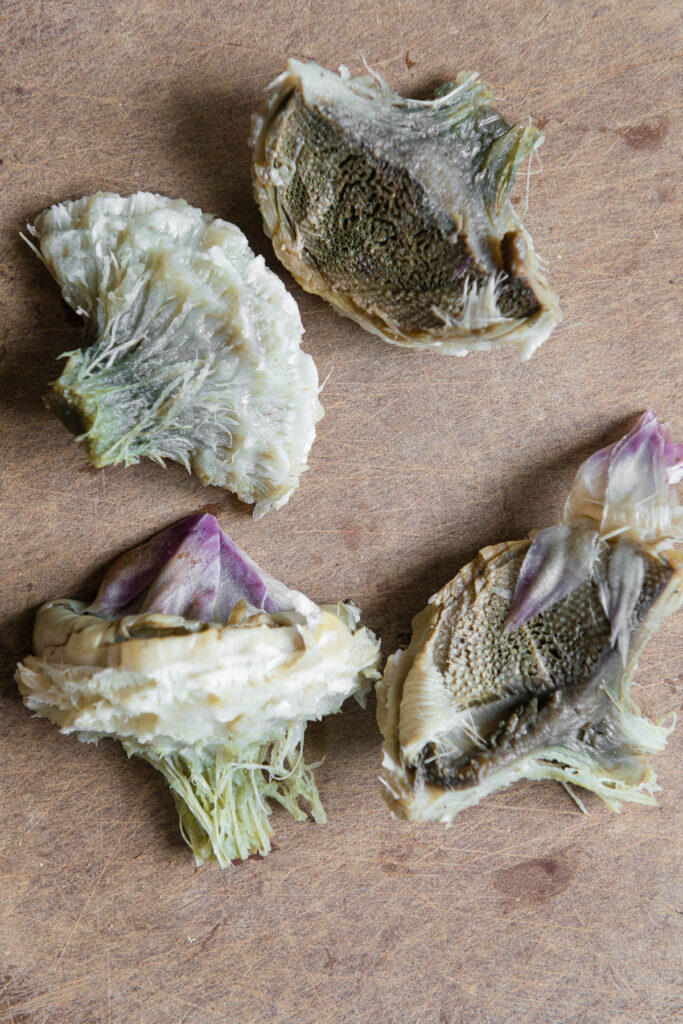 If you've made this or any other recipe on my site, let me know in the comment section how it turned out. I love hearing from my readers!
You can also follow along on PINTEREST, FACEBOOK and INSTAGRAM to see more amazing recipes to satisfy any foodie craving!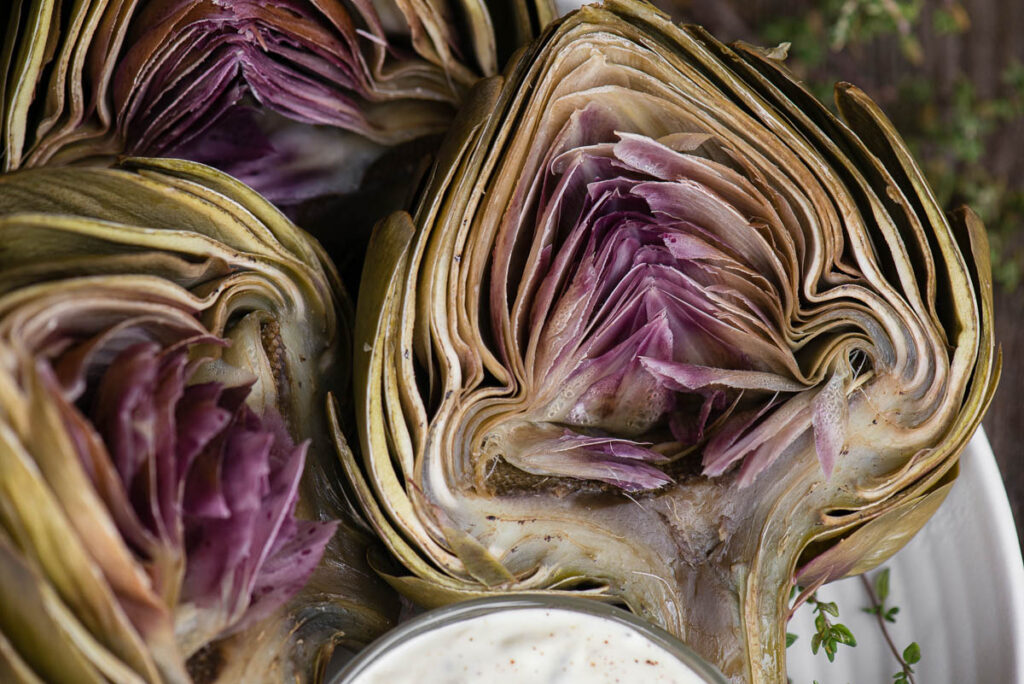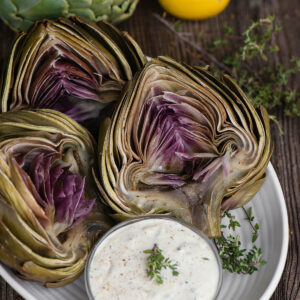 Instant Pot Artichokes
How to steam artichokes in the Instant Pot. Includes directions on how to trim, cook, and eat an artichoke as well as the best artichoke dipping sauce.
Print
Pin
Rate
Ingredients
Steamed artichokes:
2

large

globe artichokes

1

cup

water
Dipping sauce:
¼

cup

mayonnaise

1

tablespoon

lemon juice

1

teaspoon

fresh thyme

woody stems removed

⅛

teaspoon

salt

⅛

teaspoon

pepper
Instructions
Trim artichokes: Cut off most of stem. Cut artichoke in half lengthwise. Use a sharp knife to cut under choke and scoop out. Rinse off artichoke halves.

Steam: Place artichoke halves on trivet in Instant Pot with their cut halves facing down. Add water. Close and lock lid. Cook on high pressure for 6 minutes. When done, allow artichokes to sit in pot for 1 minute, then quick release pressure and transfer cooked artichokes to a plate.

Make dipping sauce: Combine all ingredients in bowl and mix to combine. Taste, and adjust according to preference.

Eat: To eat artichoke, dip ends of leaves into dipping sauce and scrape off soft white section using bottom teeth. When done, scrape away any remaining stem, leaves, or choke and eat the heart of the artichoke.
Notes
Nutritional information based on a half of an artichoke with ¼ of the dipping sauce as a serving.
Optional: Thorns can be trimmed off of leaves with kitchen shears. Also, aromatics like garlic cloves and lemon can be added to the Instant Pot prior to steaming.
Nutrition
Calories:
135
kcal
|
Carbohydrates:
9
g
|
Protein:
3
g
|
Fat:
11
g
|
Saturated Fat:
2
g
|
Polyunsaturated Fat:
6
g
|
Monounsaturated Fat:
2
g
|
Trans Fat:
1
g
|
Cholesterol:
6
mg
|
Sodium:
241
mg
|
Potassium:
310
mg
|
Fiber:
4
g
|
Sugar:
1
g
|
Vitamin A:
44
IU
|
Vitamin C:
12
mg
|
Calcium:
41
mg
|
Iron:
1
mg