Create a beautiful arch between your raised beds with this easy and effective DIY Vegetable Garden Trellis using PVC, wire, and wood.
This super simple garden trellis is perfect for peas and climbing beans.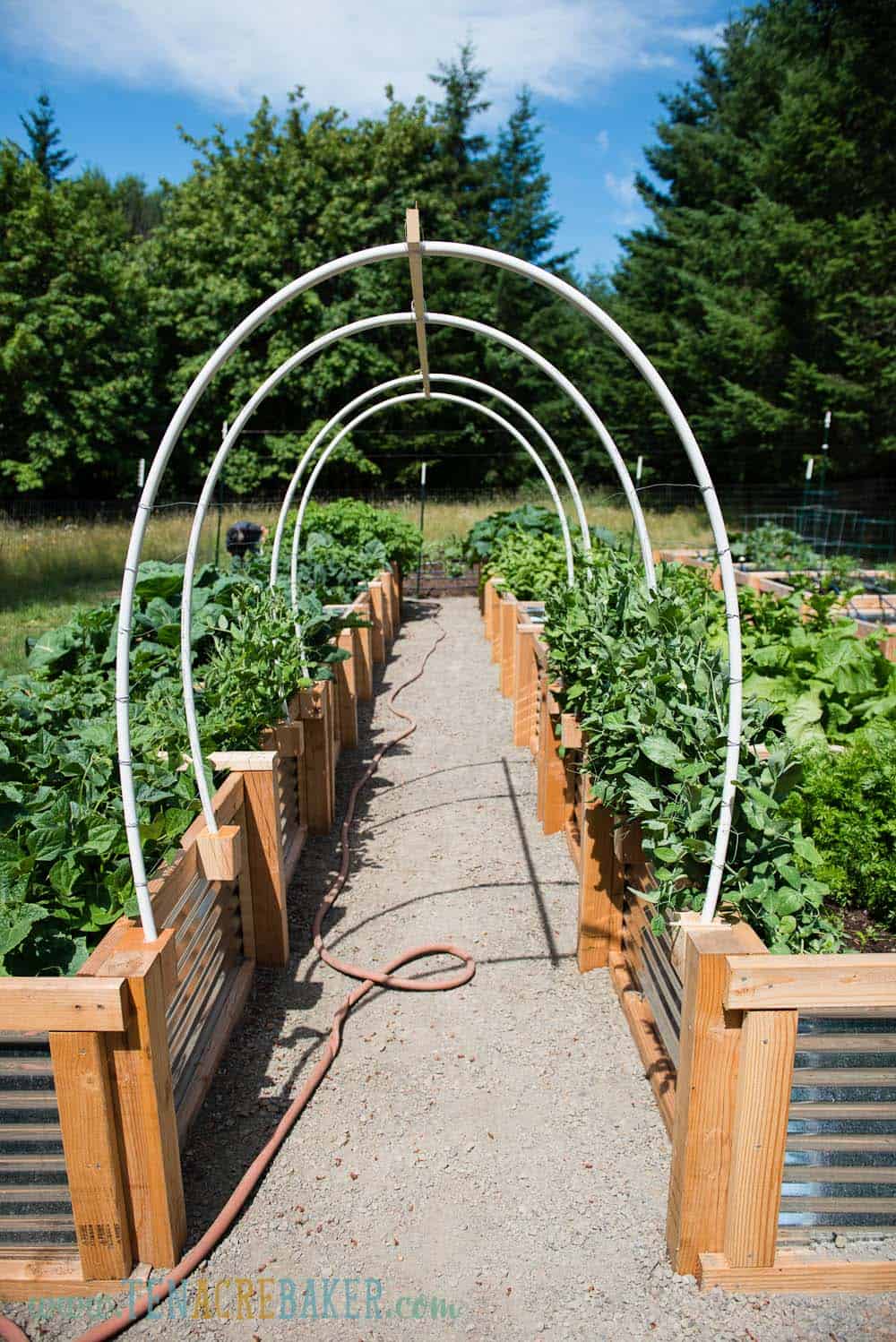 GARDEN TRELLIS
Pin it to your GARDENING BOARD to SAVE it for later!
Follow Ten Acre Baker on Pinterest for more ideas on chickens, goats, gardening, DIY projects, and farm to fork recipes!
This DIY Vegetable Garden Trellis was made possible due to my handy dandy husband and 9-year-old son. Every project in and around the house is completed by then. Being handy was a marriage pre-requisite, and my son has proven to be a quick learner!
Every project (and recipe) completed here on our little farmstead is a mixture of research combined with a whole lot of trial and error.
How we came up with the design:
Our raised vegetable beds are about 26" tall and about 40" apart. I knew I wanted some kind of arch for my peas to climb up. I planted all of the sugar snap, sugar pod, and snow peas in a row along the edge of the planter and other things like carrots, radishes, and cucumbers fill up the remaining space in the boxes.
I knew I would need a frame along with some kind of structure for the peas to climb up.
Considerations when choosing materials for the frame:
Weight - we didn't want something too heavy, but it had to be strong enough to hold the weight of the vegetables
Durability - would it hold up to the intense sun and rain?
Reuse - could we use it year after year?
Transferability - if I rotate what vegetables I put in the beds each year, would I be able to erect the trellis elsewhere?
Cost - always a factor
We ultimately went with PVC pipe. Easily purchased at Home Depot and incredibly cheap. Structurally efficient, easy to handle, and made a perfect arch.
Next step... figure out what material to use for the vegetables to climb.
Some ideas we had were:
Chicken wire. Lord knows we have a ton of it. We ended up not using because although it looks nice and neat on the roll, it looks rather sloppy when you unroll it and use small(ish) pieces of it. Plus, we figured it would be a one-time use because it would be too hard to pull the old vines off the wire at the end of the season.
Goat fencing. We have a ton of extra fencing around our property left by the previous owners. This would have provided a great surface for our vines to cling to, but it was way too heavy.
String. I've used string for a trellis before. Go to pinterest and you'll see a lot of beautiful vegetable trellises that use a string lattice. Perhaps I did it wrong in the past, but by the end of the season my string trellis was falling apart.
Electric fence wire. This stuff is gold. I bought a huge spool of it at the farm store and we love having it on hand. It's super flexible and pliable. It is light weight but sturdy. Plus, the peas ended up clinging to it easily too.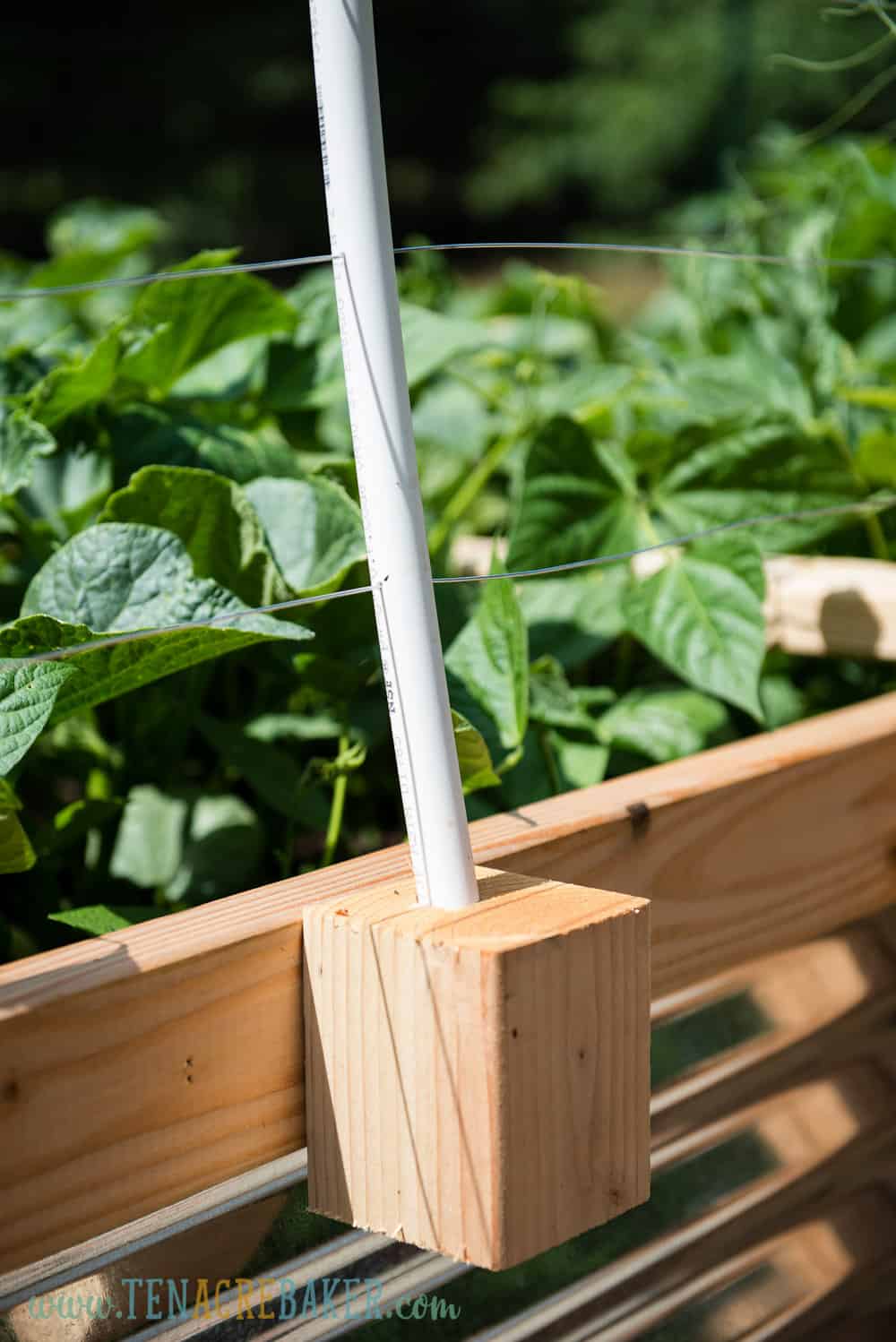 Materials needed to build this PVC Vegetable Garden Trellis:
Since all gardens are different and you might need more or less depending on your space, I'll share the process and needed materials for the trellis we built.
8 4x4x6 wood blocks to hold the ends of the PVC pipe
16 wood screws to secure the wood blocks to your raised beds
4 10-foot ½" SCH 40 PVC pipes
Electric smooth fence wire, 17 gauge, approximately 100 feet
1x2" piece of wood, 8' in length
Tools needed to build this PVC Vegetable Garden Trellis:
Forstner Drill Bit (A Forstner bit bores smooth, clean holes in wood. You can use it to create flat-bottomed holes)
Twist Drill Bit (A twist bit is the most common type of drill bit for home use. It works for general-purpose drilling in wood, plastic and light metal.) Thickness should be wider than diameter of wire.
Sharpie
Saw (to cut notches out of 1x2 support beam)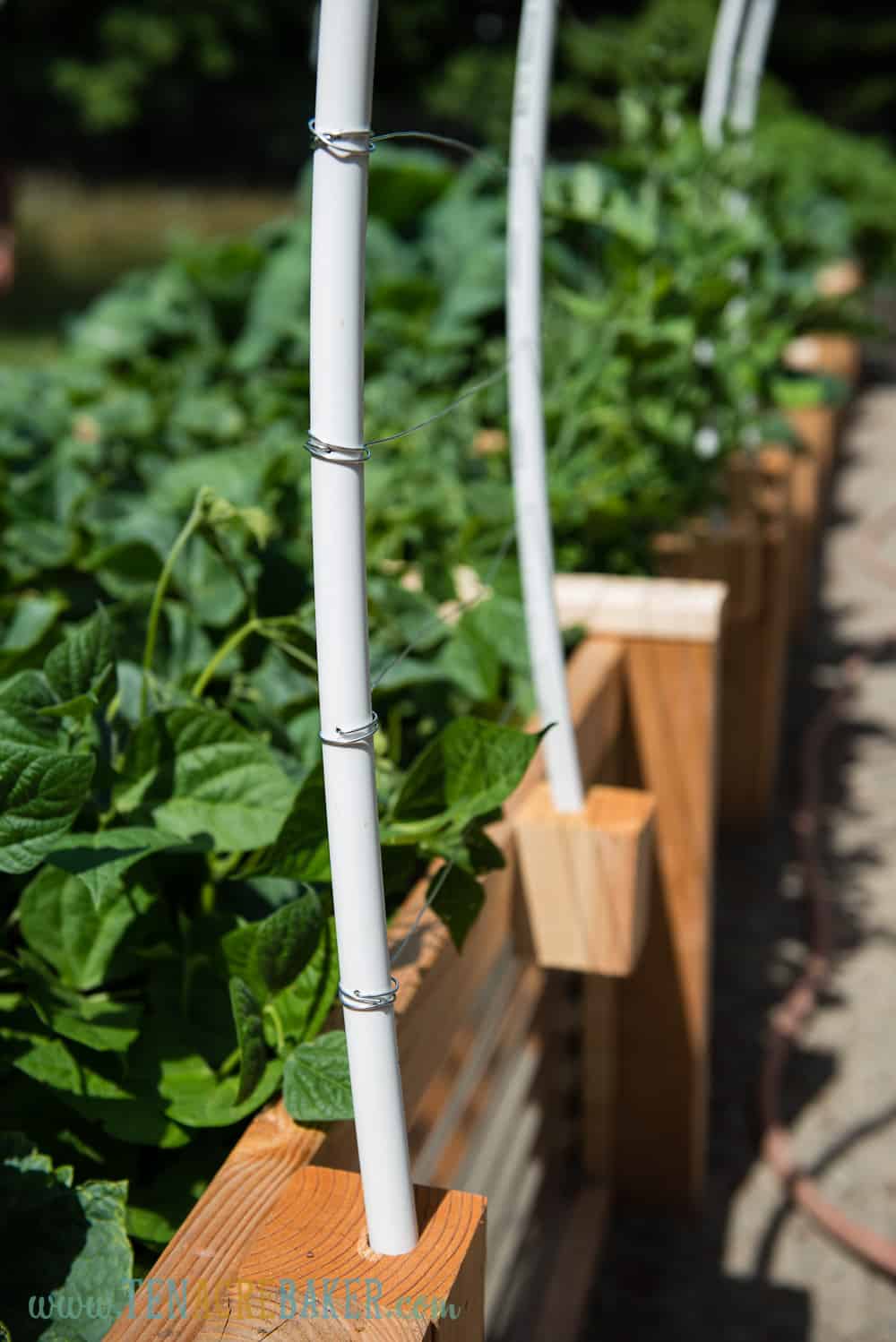 DIY instructions on how to build a Vegetable Garden Trellis Archway:
Use the Forstner Drill Bit to drill holes for the PVC pipe ends to sit. We only went down about 2-3 inches. Instead of going down vertically straight, we (and when I say we I always mean my husband and son) drilled down at a slight angle to support the arch shape and create enough tension so that the PVC pipes would stay wedged into place.
Secure the 4x4 wood blocks to the garden beds. We did this on the outside of the top support.
Insert the PVC pipes into the wood blocks, creating a series of arches. (see photo above)
To ensure the PVC pipes don't get pulled together when you add and tighten the wire, we discoved that a lightweight support beam across the top of the pipes would maintain their spacing. To do this, my husband notched out a space for each of the pipes. We held them in place with the wire. (see photo below)
Final step is to thread the wire through. We used a popsicle stick and a sharpie to mark every six inches or so on each pipe. Then, a hole was drilled through both walls of each pipe for the wire to slide through.  We found it easiest to measure the length needed, added about 6 inches on each end for wrapping, and then cut all the wire before threading and securing. We did about 5 rows and I found that to be sufficient. Our plants are much taller now, but have enough vertical support that they're growing completely vertical on their own.
If plants are already growing, gently weave them throw the wire.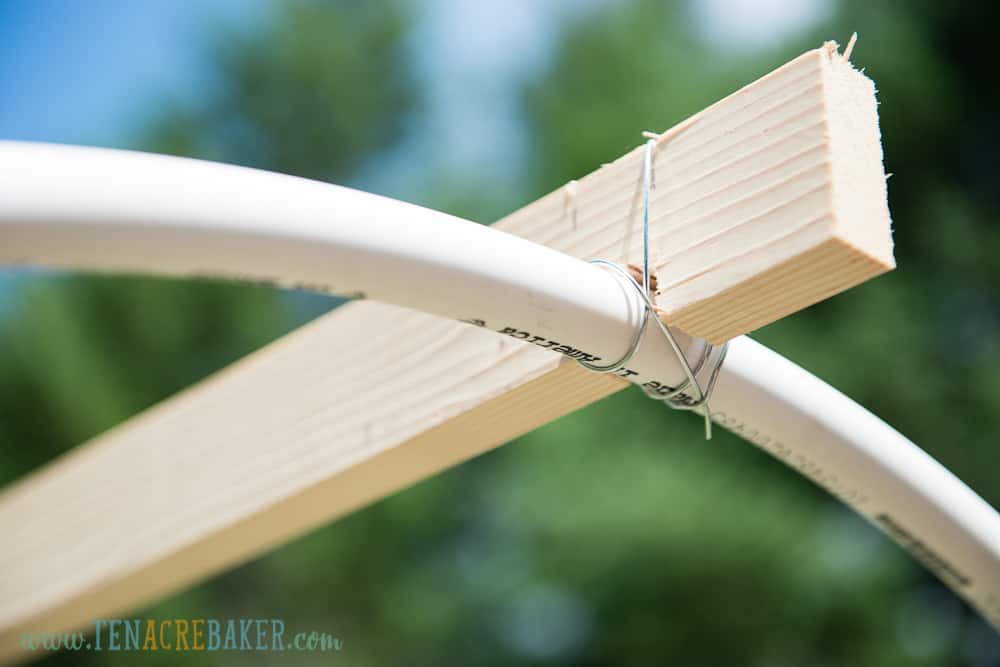 I'm extremely pleased with how this simple, inexpensive, and highly effective DIY garden project turned out. If you happen to make one, be sure to leave me a comment and let me know!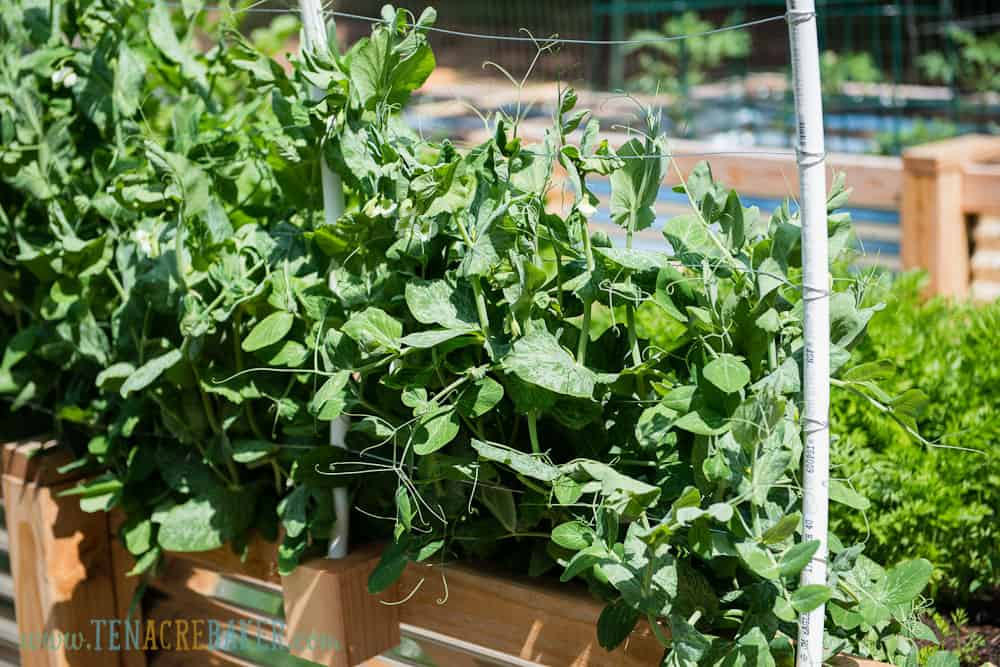 Love talking about farm to fork recipes, gardening, chickens, goats, DIY projects and the like?
We have a group that's just for you!
I invite you to join! We're building a fun homestead-loving community!!!

This post may contain affiliate links. That means that I will earn a teeny tiny (seriously, it's ridiculously small) commission on anything that you buy, at no added cost to you. By supporting me this way, I can deliver more homestead goodness! Read my disclosure policy here.