Goats were a new addition to our family when we moved to our ten acres. Get to know a little about these livestock turned pet treasures!
We currently have five goats. One was inherited from the previous owners and the remaining four came to us as babies. I'd love to tell you all about why we have goats and how much we love them. By the end of this post you will know them well!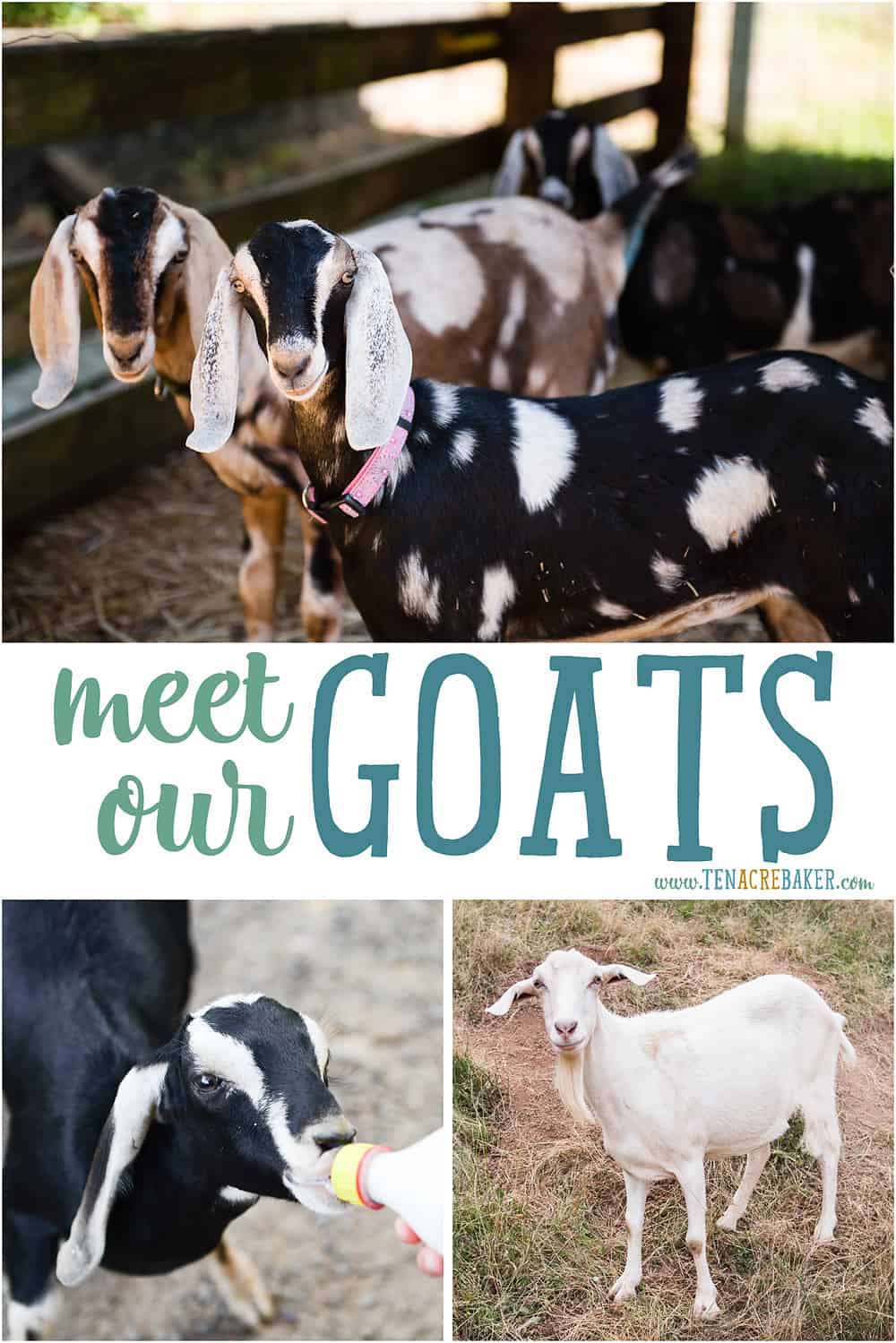 This post may contain affiliate links. That means that I will earn a teeny tiny (seriously, it's ridiculously small) commission on anything that you buy, at no added cost to you. By supporting me this way, I can deliver more homestead goodness! Read my disclosure policy here.
Meet our Goats!
Pin it to your HOMESTEAD BOARD to SAVE it for later!
Follow Ten Acre Baker on Pinterest for more ideas on chickens, goats, gardening, DIY projects, and farm to fork recipes!
Meet Tina:
Tina was born January 9th, 2006 and she is Nubian/Saanen cross. Tina was names after the llama in Napolean Dynamite. If you don't understand the joke, you need to watch the movie. Even if you've seen the movie, you need to watch it again. It's a classic.
Tina came with our house. So did Charlie Jr., but unfortunately he died only a month after we moved in. It was our fault. That story will come another day.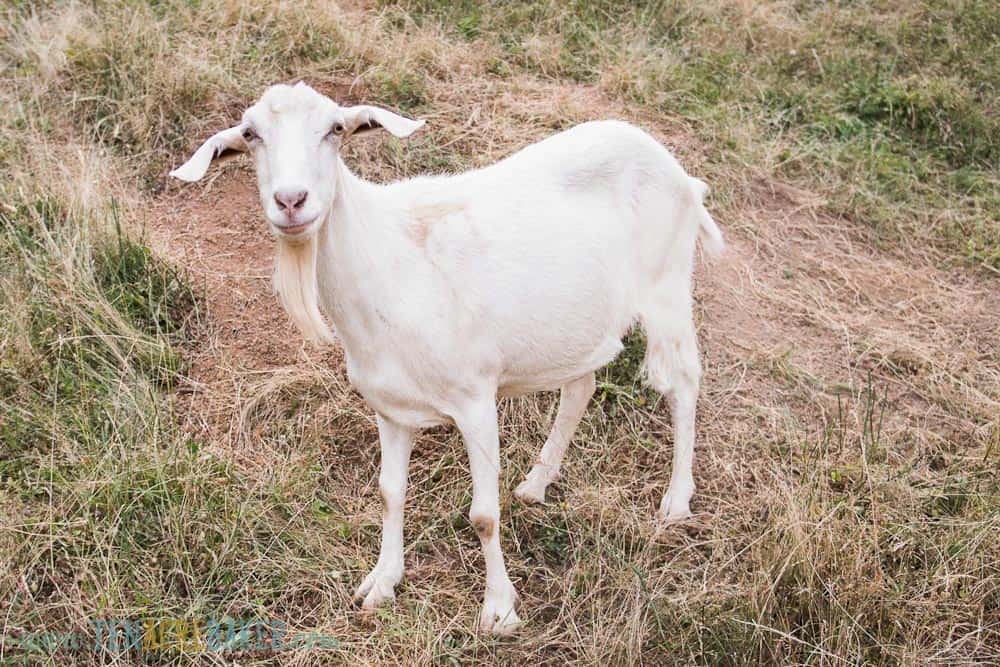 Tina is a weird goat. A very weird goat.
You can't be near her without her wanting to rub her head against your butt. Non-stop. Worse than a cat. It's like she constantly has to be touched but only in a way that suites her.
Tina is the boss. At least once a day she will butt the baby goats with her head. She wouldn't allow them to sleep on her side of the barn when we got them, so the four babies sleep together in a different area and Tina sleeps alone. She's a mean old broad.
Tina will never die.
Meet Daisy:
Miss Daisy is our smallest goat. Her mom, Crickett, had two kids - Mayfly and Caddis (all insect names). Mayfly turned into Daisy and Caddis turned into Quincy. Daisy's twin brother, Quincy, went to my mom.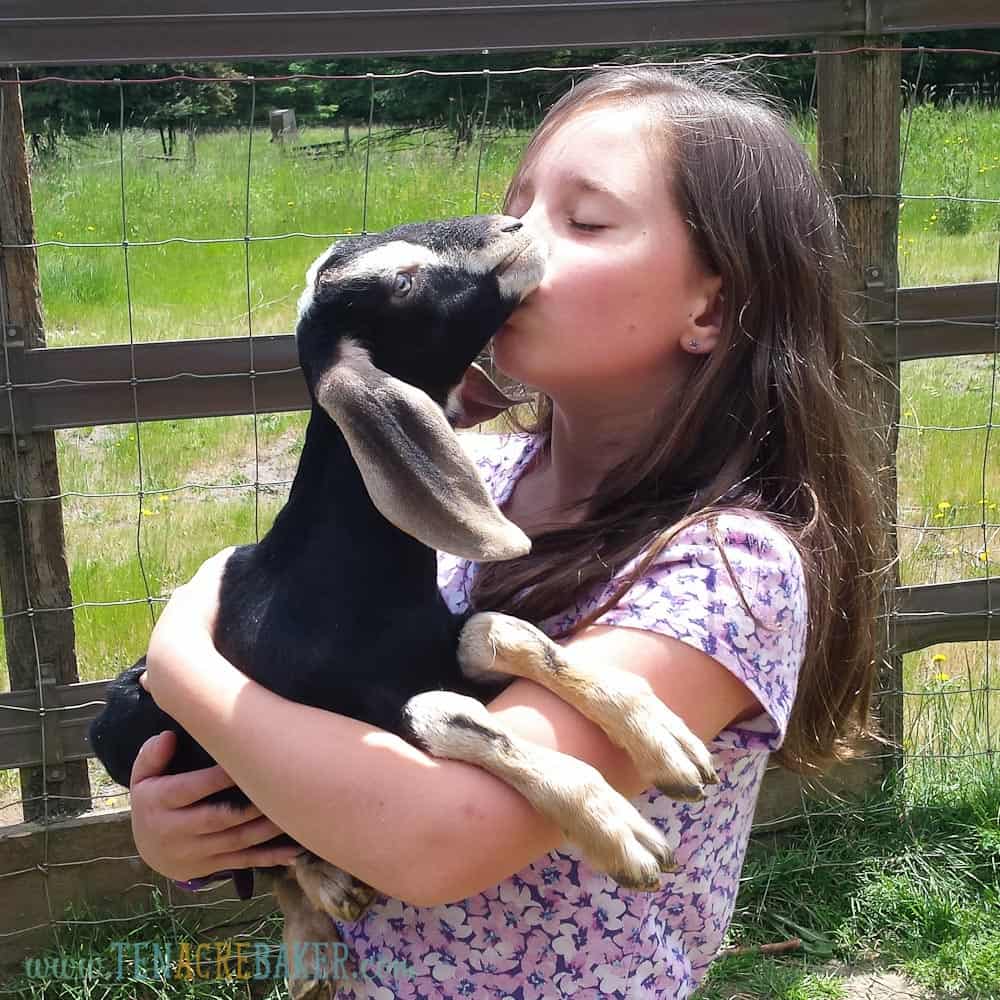 Mama Crickett rejected Daisy so she had to be bottle fed. Meanwhile, little Quincy got all the milk that was meant for two kids and ended up with big fat milk goiders under his neck. Bottle feeding Daisy was the best. If bottle feeding a baby Nubian goat isn't on your bucket list, it needs to be.
Daisy has a bit of a crooked lower jaw. It's the cutest darn thing, but it may be why here mama rejected her. All the moms out there know how painful breastfeeding can be if the latch isn't perfect!
When Daisy calls for us, it sounds like "mom". There's no other way to describe it.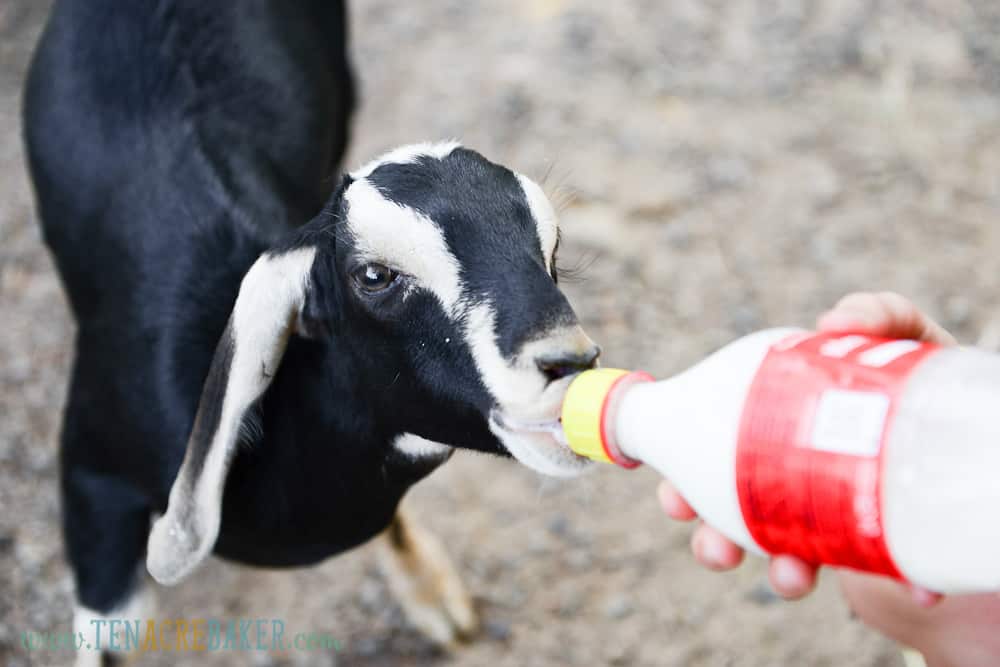 One of the best personality traits Daisy has is her inability to pay attention to her surroundings. Most of my goats notice when they're more that 10 feet away from another goat and they quickly reunite. Daisy, on the other hand, will be off in la la land eating grass and will go quite some time before she notices she's been separated from the herd.
Meet Poopers:
Yes, his name is Poopers. Everyone loves Poopers.
Everyone asks why he's named Poopers. Well, he had diarrhea when we first got him. It cleared up pretty quickly, but the name stuck. Sorry, Poopers.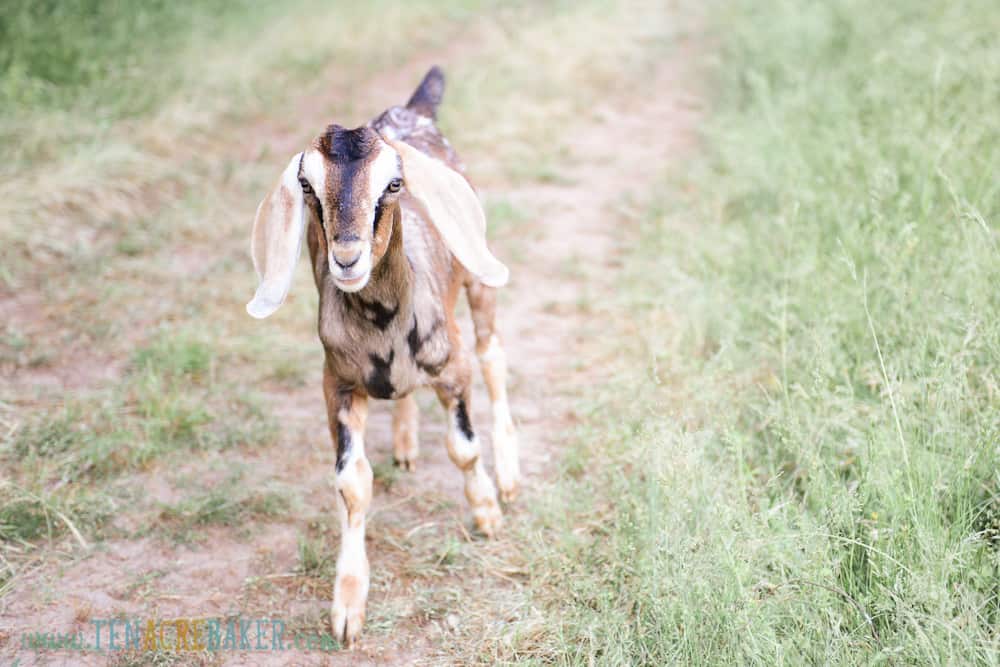 Poopers is one of the sweetest goats you'll ever meet. He has no problem kissing on the lips. Any time you pet another goat, he'll get close enough so that whatever arm is moving is also touching him. He's a lover.
Meet Troy:
Troy is Pooper's twin. Both of these boys had a mom that sadly died after child birth, so they were bottle fed. Maybe that's why they're so sweet.
Troy didn't seem to have as much personality as Poopers, but over the past few months he's really turned into a lover too. He loves to be scratched and looks like Stevie Wonder when I get that one spot on is back. Troy also likes to drink from the hose like its a water fountain when I fill up their water bucket. He's quite entertaining.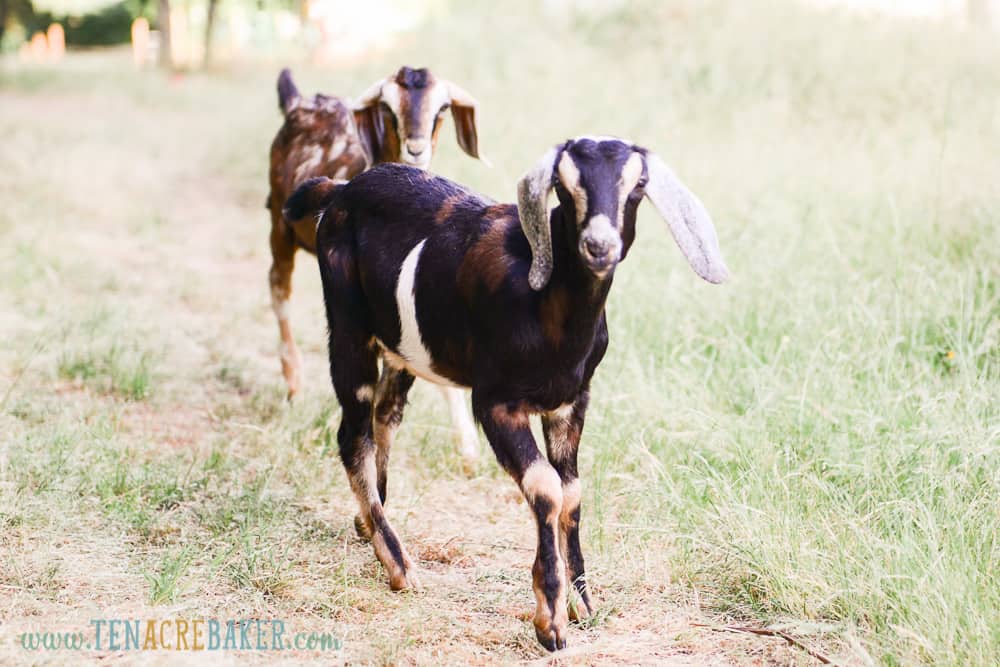 Meet Rosie:
Miss Rosie was our last addition to our herd.
She was our only baby Nubian who was nursed instead of bottle fed and when she came to use it was time for her to be weaned. She screamed bloody murder running around looking for her mom. It was the worst sound and we felt horrible.
It took about a week for Rosie to warm up to us, but now (a full year later) she's an absolute lover. When I pet her, I put her head against my chest and use both my arms to scratch her sides.
She's definitely the matriarch of the group and panics if any of the goats leave her sight. She's also the explorer and has wriggled her way out of our pasture a couple times and cries that blood curdling scream until we can get her back where she belongs.
When If Tina ever dies, I'm sure Rosie will be the queen.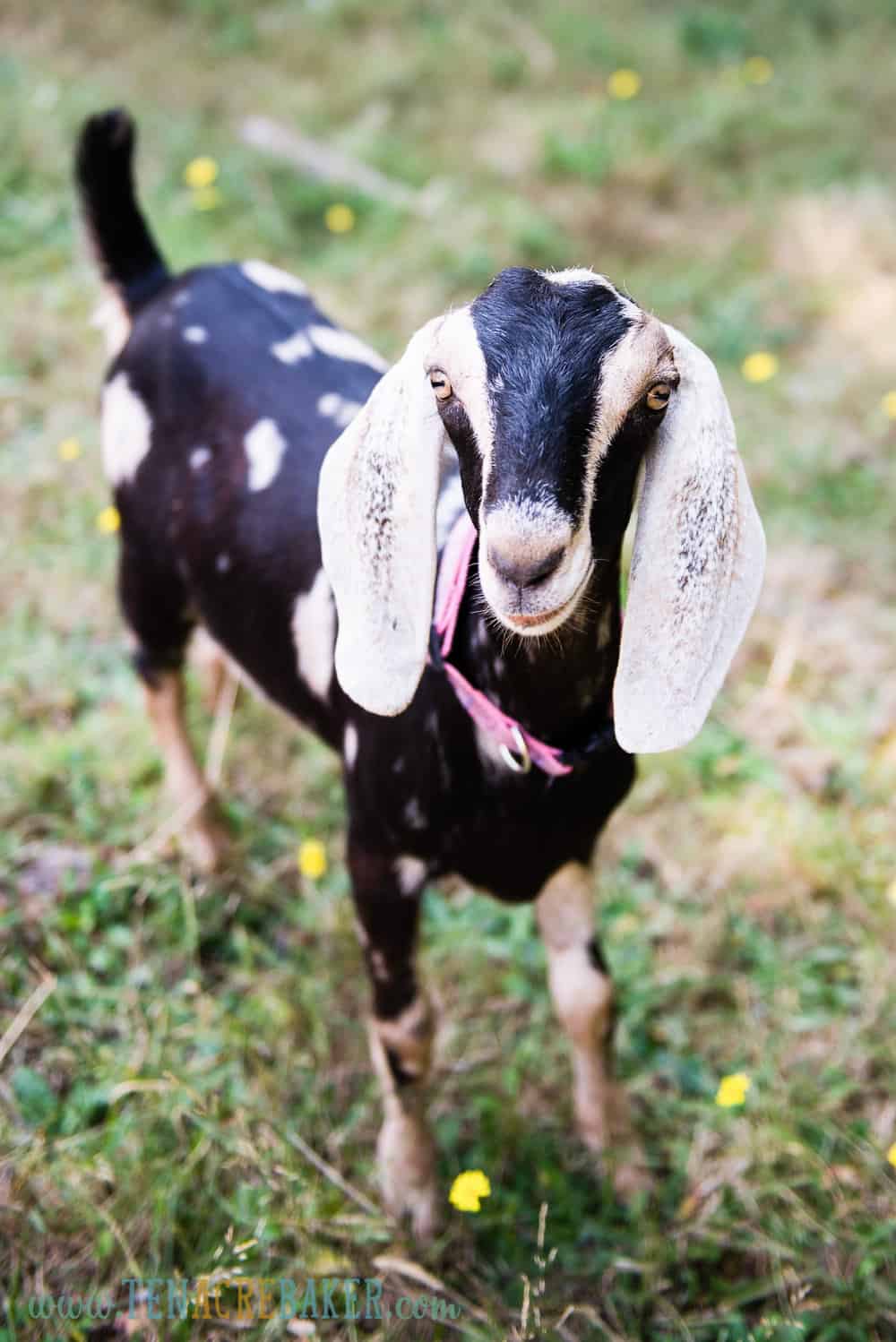 That's our herd... four sweet purebred Nubians and freaky Tina.
We plan on breeding Daisy and Rosie this fall so by Spring 2019 we should have some baby goats! Keep in mind that I don't know what I'm doing, so let's all hope for the best.
I'll have plenty more goat posts coming your way, so stay tuned!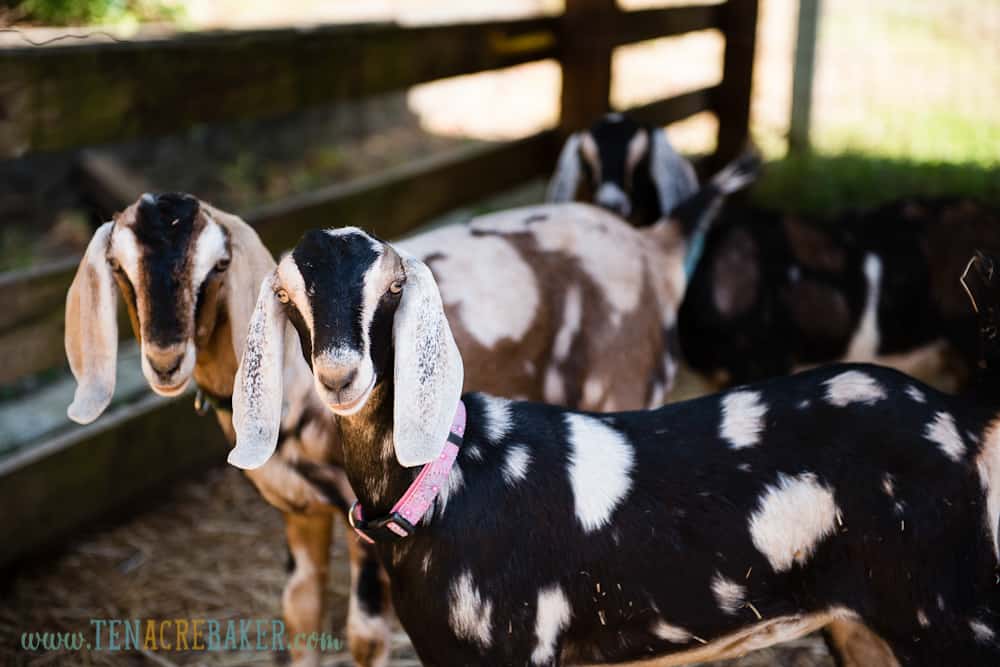 Love talking about farm to fork recipes, gardening, chickens, goats, DIY projects and the like?
We have a group that's just for you!
I invite you to join! We're building a fun homestead-loving community!!!