Zucchini Fries are a great way to use up all that zucchini from your garden!
Oven baked and covered in a tasty crispy coating, you'll love this recipe. There's a tasty trick to getting your oven baked zucchini fries crisp on the outside but soft and tender on the inside.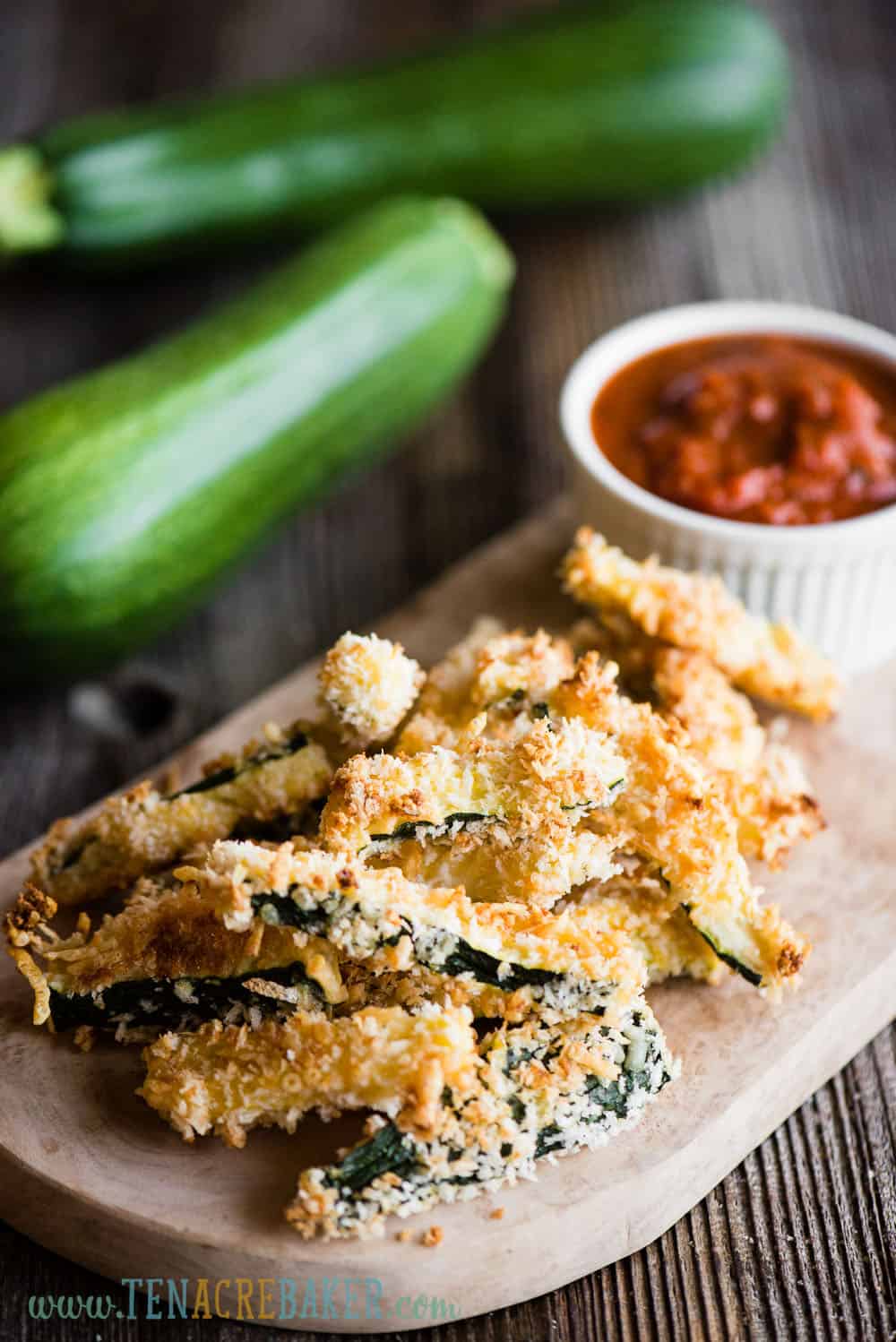 Why this recipe works:
Oven baked Parmesan Zucchini Fries are one of the best ways to eat zucchini! Lord knows I have an abundance of zucchini from my garden. I planted three plants. That's about 2.75 too many. I can't even begin to tell you how many blueberry zucchini muffins I've made.
Even though I think I've had my fill of zucchini, these zucchini fries always tastes good!
Mind you, I think fried zucchini fries would be amazing, but I don't often deep fry anything and have yet to jump on the air fryer band wagon. So, I opted for the baked version.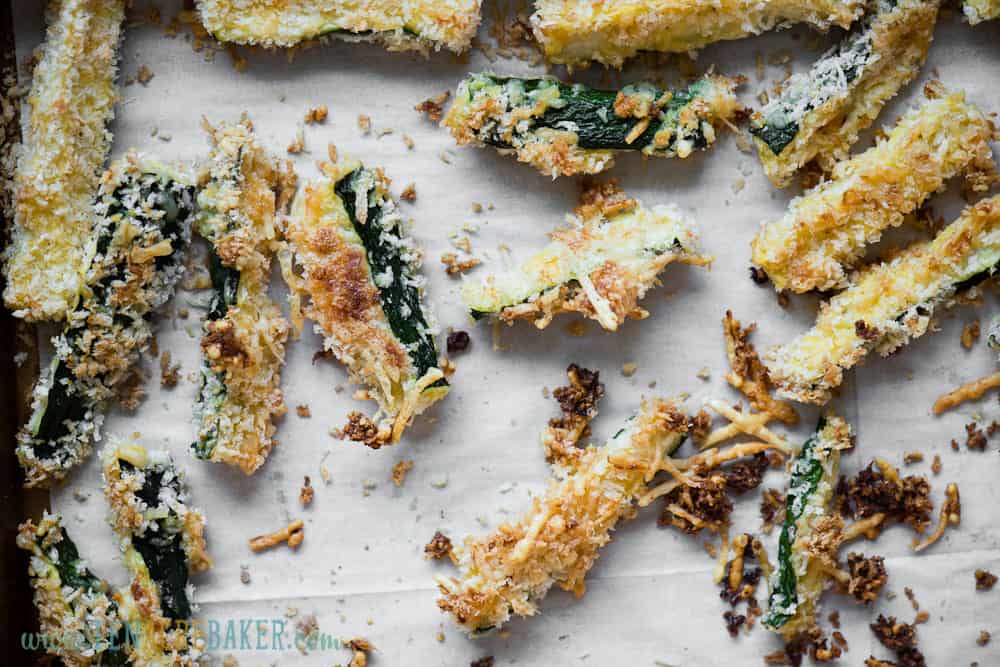 How do you make crispy zucchini fries?
If these weren't crispy, they'd be soggy pieces of zucchini, and who wants that?
The secret to a crispy outside has two parts:
By using a flour - egg - panko and parmesan combination, you really get the bread crumb and parm coating to stick to the zucchini. Ensure that you shake off any extra flour and egg before you coat them and set them on the baking sheet. All you will taste once they are cooked is that tasty crispy outer coating.
Parmesan cheese is my favorite way to give a golden brown crisp to any kind of food! Pro tip: make sure your parmesan is finely grated. If you try to just use the large grated pieces that come in a bag at the store, you will have a heck of a time getting that coating to stick to your zucchini fries. The smaller the specs of parmesan, the crispier your zucchini fries will be.
Is zucchini allowed in keto?
You bet, but the panko bread crumbs? Not so much.
You can easily transform this recipe into a keto approved recipe, however, by simply eliminating the flour and also by replacing the panko bread crumbs. You can use double the amount of parmesan cheese. Or, you could go with my personal favorite kind of recommendation and replace the panko bread crumbs with ground hazelnuts. They give a great crispy crunch!
What do you serve zucchini fries with?
There are a ton of recommendations out there as far as what kind of dipping sauce is best for zucchini fries.
My personal preference is to use a warm marinara sauce. Half the time I make spaghetti, I end up using half pasta, half zucchini these days. I already knew they would taste great together, so it was a no brainer to serve warm spaghetti sauce with the warm zucchini fries.
Another option would be a creamy salad dressing like ranch or bleu cheese.
Or, you don't even need a dipping sauce if you don't want! These zucchini fries actually have great flavor on their own because of the garlic herb seasoning.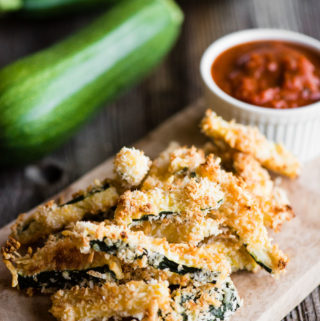 Parmesan Zucchini Fries
Zucchini Fries are a great way to use up all that zucchini from your garden! Oven baked and covered in a tasty crispy coating, you'll love this recipe!
Print
Pin
Rate
Ingredients
5

medium

zucchini

½

cup

flour

1

tablespoon

garlic herb seasoning

2

eggs

slightly beaten

1

cup

parmesan cheese

finely grated

1

cup

panko bread crumbs
Instructions
Preheat oven to 425 degrees F. Line a baking sheet with parchment paper.

Cut the ends off the zucchini. Slice in half lengthwise. Next you will cut into thick chunks that are about 3-4 inches long and ½ inch thick. I recommend leaving the skin on.

Arrange three shallow dishes. In the first one combine the flour and garlic herb blend. In the second add the beaten egg. In the third, combine the parmesan and panko.

Take each raw zucchini fry, coat it in the flour mixture, then dip in the egg, then coat in the parmesan panko mixture before transferring to the baking sheet. As you do this, shake off any excess flour or egg before rolling in the bread crumb mixture.

Arrange in a single later on the baking sheet. Bake in preheated oven for about 20 minutes, turning once half way through the cooking time, until golden brown.

Serve with warm marinara or ranch dressing as a dipping sauce.
Nutrition
Calories:
95
kcal
|
Carbohydrates:
10
g
|
Protein:
6
g
|
Fat:
3
g
|
Saturated Fat:
1
g
|
Cholesterol:
32
mg
|
Sodium:
187
mg
|
Potassium:
246
mg
|
Fiber:
1
g
|
Sugar:
2
g
|
Vitamin A:
270
IU
|
Vitamin C:
14.6
mg
|
Calcium:
125
mg
|
Iron:
1
mg