Blueberry Crumb Pie, made with a homemade buttery crust, fresh blueberries, and an almond crumble topping, is the best homemade fruit dessert you can make!
Everything about this Blueberry Crumb Pie will make you drool. The homemade crust is flaky and chewy. The fresh blueberries are tart and juicy. The crumb topping is sweet and crunchy. Are you drooling yet?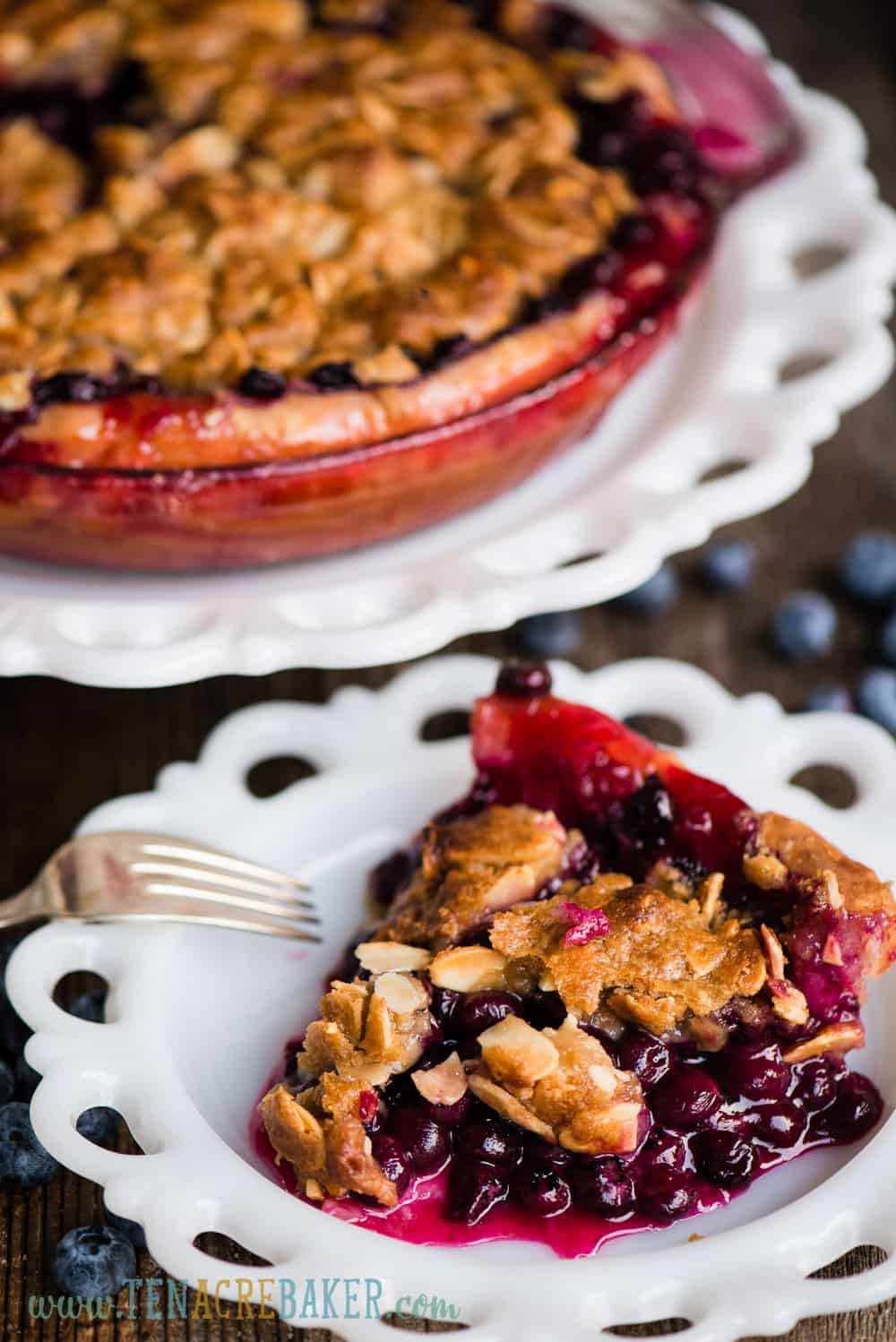 Blueberry Crumb Pie is what my summer cravings are all about.
This summer I picked more blueberries than I knew what to do with from my very own backyard.
I'll be sure to write a post and make a video about how I prune my blueberry bushes during the winter. I admit, I didn't really know what I was doing... but I did something right!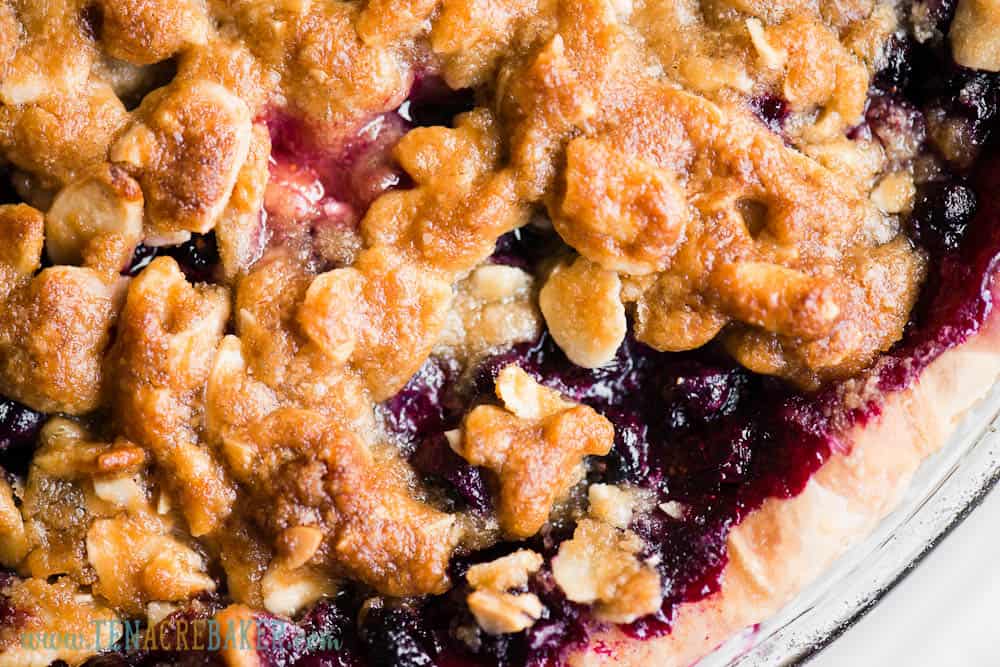 Why this is the best blueberry crumb pie:
This blueberry pie recipe must be broken down into it's three equal parts to get a full understanding of why it is so amazing.
The crust. Now that I feel like I've perfected my technique, I will never again buy a premade pie crust. Never ever. The taste, quality, and texture of a homemade butter pie crust just can't be beat. This time I did something different and used half goat cheese, half butter. Not just any goat cheese, mind you. Susan, the lady who sold me my goats, the city librarian, and an endless source of goat knowledge, made this cheese. How homestead-y is that?
The blueberries. Okay, when you grow your own, they always taste better. But there's just something wonderful about a fresh, in season, juicy, sweet, tart, dark blueberry. I toss them with lemon juice, sugar, and tapioca flour. You can use any kind of thickener. The secret to getting a juicy blueberry pie is to mash some of the filling before you set it in the pie crust.
The topping. There's something magical about the combination of sugar, flour and butter. Throw some slivered almonds into the mix and you have just the right amount of crunch to take it over the top!
Can you make this blueberry crumb pie with frozen blueberries?
Sure can. I would just recommend thawing the berries prior to cooking the pie. Otherwise your bottom crust will never fully cook and your topping will burn.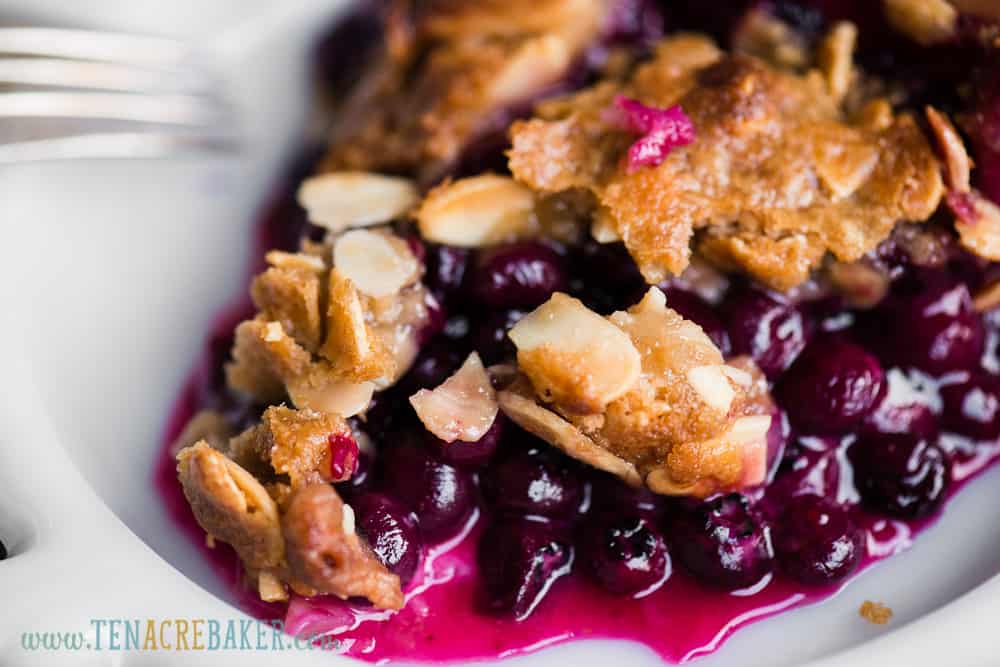 How long do you cook blueberry crumb pie?
When I bake pies, I almost always bake them at a high temperature for 15 minutes before I reduce the oven temperature and continue cooking.
This particular blueberry crumb pie recipe takes 15 minutes at the high heat and another 40 minutes at the lower heat.
Ingredients
Crust:
1

cup

all-purpose flour

chilled

½

cup

unsalted butter

chilled, alternatively can use 4 oz butter and 4 oz goat cheese

½

teaspoon

kosher salt

1

tablespoon

water

ice cold, more if needed

1

tablespoon

vodka

ice cold, more if needed
Filling:
5

cups

fresh blueberries

1

cup

sugar

1

tablespoon

lemon juice

½

cup

tapioca flour
Topping:
4

tablespoon

all-purpose flour

4

tablespoon

brown sugar

4

tablespoon

unsalted butter

½

teaspoon

kosher salt

½

cup

slivered almonds
Instructions
To make the crust:
Use a pastry blender or food processor to combine flour, butter and salt until the butter is in pea sized chunks. Add water and vodka in 1 tablespoon increments until dough is just moist enough to hold together. Shape into a disk, wrap tightly in plastic wrap, and refrigerate at least an hour.

Once dough has chilled, roll out on a heavily floured surface until it's large enough to line a 9-inch pie pan with some overage.
To make the filling:
Combine all filling ingredients in large bowl. Use a masher to partially mash some of the blueberries so that their juice combines with the sugar and tapioca flour during the cooking process.

Add filling to pie shell.
To make the crumb topping:
Combine all ingredients except almonds in medium sized bowl. Once combined, add almonds and gently mix together. Crumble over to of pie.

Cut off any excess dough and shape edges between finger tips.
To bake:
Use pie shield or aluminum foil around edge of crust to prevent over browning. Bake in preheated 400 degree oven for 15 minutes. Without opening oven, reduce heat to 350 degrees F and continue cooking for an additional 40 minutes. Remove pie shield during last 10 minutes of cooking.

Allow to fully cool before slicing.
Notes
Depending on your blueberries, there will be a fair amount of juice in the cooked pie. I prefer a lot of juice with my blueberry pies, but if you like them to be thicker you can add ¼ cup corn starch to the filling prior to cooking.
Nutrition
Calories:
309
kcal
|
Carbohydrates:
44
g
|
Protein:
2
g
|
Fat:
14
g
|
Saturated Fat:
7
g
|
Cholesterol:
30
mg
|
Sodium:
197
mg
|
Potassium:
95
mg
|
Fiber:
2
g
|
Sugar:
26
g
|
Vitamin A:
390
IU
|
Vitamin C:
6.4
mg
|
Calcium:
24
mg
|
Iron:
1
mg